Collagen Serum - Regenerate & Restore
Regular price
Sale price
$ 39.00
Unit price
per
Sale
Sold out
30ml

MintPear's Clinically Proven (with Proprietary Patented Ingredients) Collagen Serum is known to:

Visibly Reduces Deep Wrinkles and Wrinkles Volume
Creates a Beautiful and Radiant, Well-Moisturized Glow with Aloe Vera, Camellia/Tsubaki Leaf, and Porphyridium Cruentum Extracts
Increases Collagen Synthesis
Increases Elastin Production
Smooths Skin
Increases Total Collagen
Improves Skin's Firmness
Instant Anti-Wrinkle
Increases Elasticity
Energizes Skin
Anti-Crows-Feet
Repairs and Heals
Neutralizes Free Radicals (with Camellia Sinensis Leaf Extract (Green Tea Extract) a natural source)
Doubles as a Wonderful Foundation Primer
Defends Skin Against Environmental threats - with powerful antioxidants that even help reverse UV damage offering unequalled protection

This Tripeptide Serum is for you if you are dealing with: Fine Lines, Wrinkles, Dehydrated Skin, Aging/Mature Skin, Large Pores or Sagging, Tired-Looking Skin. Are you ready to inject youth back into your skin by visibly correcting all signs of aging and damaged skin with one highly concentrated and Clinically Proven serum?

 

Collagen is one of those rare things that really can help you age backward. If you've ever purchased an anti-aging skin care product, then you've probably heard of Collagen. All those pricey anti-aging treatments at your dermatologist's office, like lasers and ultrasounds, work by stimulating collagen. It makes up nearly 80 percent of your skin, found in the middle layer called the dermis. Collagen works together with another protein called elastin to strengthen the skin and help it snap back into place when stretched. MintPear's Best-Selling Collagen Serum will inject the youth back into your skin with just one simple step!

Now you're probably wondering if you need to add Collagen Serum to your skincare routine? Let me tell you just how important Collagen is for aging skin. Collagen is the most abundant protein in the human body. It is a major component of connective tissues that make up several body parts, including tendons, ligaments, muscles, and skin. Collagen is responsible for keeping skin strong and firm, and also plays an important role in wound healing. The body produces less and less collagen with age. In fact, after the age of 20, a person produces about 1 percent less collagen in the skin each year. Environmental free radicals can weaken collagen proteins making the skin thinner and more fragile with age. Increasing the levels of collagen in the skin results in numerous benefits, such as reducing the appearance of fine lines and wrinkles, firming skin, and promoting a more plump complexion.

Inject the youth back into your skin with MintPear's Clinically Proven Tripeptide Collagen Serum. This serum visibly corrects all signs of aging and damaged skin by reactivating and boosting your Collagen and Elastin Production levels. This serum contains Patented & Proprietary Collagen boosting ingredients that work to instantly smooth emerging wrinkles. By fighting against the first signs of aging, this serum prolongs and preserves youthful-looking skin and leaves your skin with a well-moisturized glow and a velvety finish. MintPear's Collagen Serum delivers equivalent results to one injection of collagen filler in just 2 weeks! It's just like magic!

Apply morning and evening to cleansed skin, using light circular motions to ensure absorption - all over the face and neck, avoiding contact with eyes. Can be used in combination with other MintPear Serums and applied prior to moisturizers. Allow 3-5 minutes to dry before applying makeup.

What's normal: slight tingling and redness may occur from active ingredients, we recommend to use SPF with this product. Naturally Occurring Odors, you can be 100% confident that MintPear doesn't add any fragrance or essential oils (known to cause hormonal imbalance) to masque ingredients.

Special note: the entire Collagen range is free from parabens, mineral oil, propylene glycol, and GMOs.

***RECOMMENDATION***: use the MintPear Collagen Serum in conjunction with the MintPear "C YOUR YOUTH" Vitamin C Serum for an increased skin renewal improvement process.

Water, Glycerin, Pentylene Glycol, Isopentyldiol, Niacinamide, Dimethicone, Polyquaternium-37, Hydroxypropyl Starch Phosphate, Phenoxyethanol, Ethylhexylglycerin, Sodium Hyaluronate, Disodium Acetyl Glucosamine Phosphate, Sodium Glucuronate, Dimethicone/Vinyl Dimethicone Crosspolymer, Methylglucoside Phosphate, Sodium Phytate, Copper Lysinate/Prolinate, Amodimethicone, Carbomer, Magnesium Sulfate, Carrageenan, Palmitoyl Tripeptide-5, Sea Salt, Aloe Barbadensis Leaf Juice, Tocopherol, Camellia Sinensis Leaf Extract, Porphyridium Cruentum Extract.

Leaping Bunny Certified
Suitable for vegans
Free from: Animal Cruelty, Animal ByProducts, Parabens, Sulfates, Fragrance, Dyes, Harsh Chemicals
Proprietary Formulations with Patented Ingredients at a high concentration

MP-7™ is MintPear's new proprietary cosmeceutical active-ingredient. MP-7™ is the best 'needle-free' collagen and elastin filler on the market. MP-7™ is created by a patented, green-chemistry process. MP-7™ contains a safe and pre-activated source of energy for skin which is used to feed aging cells. To reactivate collagens and elastin production, MP-7™ also incorporates the power of Essential Amino Acids and Copper. Amino Acids (specifically Proline and Lysine) play a major role in the production of collagens and elastin that the body is not able to produce by itself. Additionally, Copper also reactivates the correct skin chemistry which is needed to produce collagens and elastin. MP-7™ shows high clinical efficacy within 15 days resulting in visible reduction of deep wrinkles and improvement of skin firmness. MP-7™ is the best solution to create youthful skin. MP-7™ also targets mature skin issues.

The efficiency of MP-7™ was evaluated in a double-blind test, versus a placebo, under dermatological control. Here are the results from MP-7™: (1) Fibroblast, (2) Collagen and (3) Elastin testing.

Clinical 'in vitro' Fibroblast testing demonstrates that MP-7™ dramatically increases the vitality of both young and aged fibroblasts within 3 days. Aged fibroblasts are enabled to function properly again. Additional 'in vitro' testing of MP-7™ was also conducted on the production of Collagen. MP-7™ is proven to increase the synthesis of Pro-collagen. Aged fibroblasts show an even better ratio of production compared to young fibroblasts.

'Ex vivo' testing on the production of total Collagen with MP-7™ were evaluated on skin explants from a 74 years old donor. Clinical results show that MP-7™ incredibly increases the quantity of total collagen by 6.8% in 11 days. MP-7™ significantly increases collagen I and collagen III synthesis by +179% and +194% respectively after 11 days, versus untreated. MP-7™ significantly increases collagen density by 7.5 times and improves the anisotropy index by 25 times compared to placebo after only 15 days. The results are confirmed after 2 months of treatment.

'Ex vivo' testing of the production of Elastin with MP-7™ were also evaluated on skin explants from a 74 years old donor. MP-7™ significantly increases tropo-elastin and elastin production by +57% and +190% respectively after 11 days, versus untreated. Fast improvement of firmness and elasticity were proven. MP-7™ increases firmness by 13 times and increases elasticity by 1.6 times in only 15 days. These improvements of skin parameters are sustained after 2 months of treatment. MP-7™ skin is smooth and wrinkles are visibly reduced after only 15 days of treatment.

MP-7™ delivers equivalent results to one injection of collagen filler in just 2 weeks: -15% of wrinkles reduction.

(source American Society of Plastic Surgeons - 2013).

Claims:
MP-7™ Visibly Reduces Deep Wrinkles (in 15 days).
MP-7™ Increases Collagen Synthesis (by 170%).
MP-7™ Reduces Wrinkles Depth (by 15%) (in 15 days).
MP-7™ Increases Elastin Production by 57% (in less than two weeks).
MP-7™ Reduces Wrinkles Volume (by 13%) (in 15 days).
MP-7™ Increases Fibroblast Vitality (within 72 Hours).
MP-7™ Smooths Skin (after only 15 days).
MP-7™ Increases Total Collagen 6.8% (in less than two weeks).
MP-7™ Improves Skin Firmness (in 15 Days).
MP-7™ Increases Collagen Density 7.5 times (in 15 days).
MP-7™ Is an Anti-Aging Young Collagen Booster.
MP-7™ Increases Skin Firmness 13 times (in only 15 days).
MP-7™ Firms Skin. Instant Anti-Wrinkle.
MP-7™ Increases Elasticity (by 1.6 times) (in only 15 days).
MP-7™ Re-Densifies Skin. Anti-Worry-Line.
MP-7™ Energizes Skin. Anti-Crows-Feet.

Delia's daily routine includes the following MintPear Products:

 

 

 

 

DRAMA BABYYYY - Bailey Sarian Using MintPear Collagen Serum (min 1:12)
Customer Reviews
12/04/2020
Washma A.

United States
Possibly received old product
I initially tried this serum with Ipsy and saw results immediately after application with plumper and brighter skin. I loved it so much, I came to order a couple of these for myself and family members. However the results are not the same at all. The full-size product I received had a yellow color and some clumps whereas the original serum which was completely clear and smooth. The ipsy version was also more liquidy and glided on easier, whereas this one is stickier. It also smells a bit stale like old makeup while the original product had a fresh more clear fragrance (not sure how to describe smells lol) I wouldn't mind if I saw the results but I've been using it for over a week and nothing. Not the same results at all. I think i might have just gotten an older/expired version of the product which is sad because I just bought 2 of these serums and a whole set. I feel similarly about the charcoal wash I got. But I really love the rose hip serum. It's my favorite product because it smells so nice it's like aromatherapy.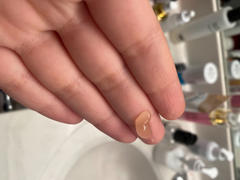 Hi Washma! So glad you left your review/feedback. You are correct, this is a different formula than what was featured in the ipsy bag (2017). The good news, it's now EVEN BETTER! Your product is definitely not expired, rest-assured you actually have the new improved formula. The improved formula is actually clinically-proven to work after 4-6 weeks, so be sure to continue the use. Also, you mentioned color, this is the naturally occurring shade of the active ingredients. We don't use any synthetic fragrances in any of our products, so the scent is the naturally occurring scent, as well. We fill in small batches and we do this monthly, so the products are always new and fresh. I hope this helps to clarify any doubts you may have. Always feel free to reach us at support@mintpear.com for help!
08/24/2021
Kim T.

United States
Loving the collagen serum
So far I'm loving the collagen serum, it's been fantastic! Will definitely buy again. I feel like my face I'm looking younger every time I use it
07/31/2021
Jo P.

United States
Very nice
I like the way it feels on my skin, after a few minutes of soaking in. Very light, but it does the trick. Not greasy. No heavy aromas. I'm on my third bottle and plan to reorder.
06/18/2021
Daniela L.

United States
Must have
I love it! I will be ordering again! I instantly feel my skin tighten.
05/31/2021
Janet L.

United States
Never recieved the serum i ordered
I love it but i only had a sample thats why i ordered it sfter trying it i loved it they say my address wasnt right i talked to Faris gave him apt # nfact he confirmed it was correct they said it was returned wrong address corrected i still never have recieved Why ?