Rosehip Night Serum
Regular price
Sale price
$ 39.00
Unit price
per
Sale
Sold out
30ml

MintPear's Rosehip Night Serum is an all-natural, pure, and organic night time treatment to repair and heal your skin's texture, and overall appearance.

Rosehip Night Serum has been known for:

Powerful Anti-inflammatory Anti-Aging Blend
Also Known As: "Nature's Retin A" - Rosehip is a great source of Vitamin A
Stimulates Collagen & Elastin for Firmer Skin
Reduces Dark Spots, Fine Lines & Wrinkles
Deep Overnight Intensive Moisturizing Treatment



FAQ: "The difference between The Rosehip Night Serum & The Rosehip Oil: The Rosehip Night Serum is a combination of multiple, luxurious Ingredients as where the Rosehip Oil is simply 100% Rosehip Oil.

As you may have guessed from its name, Rosehip Oil is the main ingredient in this serum. And let me take a moment to tell you all the AMAZING benefits that Rosehip Oil contributes to skin.

Rosehip Oil is harvested from the seeds of rose bushes and is full of vitamins, antioxidants, and essential fatty acids that work wonders for your skin. Not only do the fatty acids and Vitamin A in Rosehip Oil moisturize the skin, but they also promote skin regeneration, and can improve skin flexibility and permeability. This means that Rosehip Oil products can improve skin texture and even reduce the appearance of acne scars or stretch marks. Scientific studies showing Rosehip Oil's promise make it an intriguing option for anyone looking to reduce the visible signs of aging, clear up scarring, or otherwise improve their skincare routine. Not only is it reasonably affordable and easy to use, but it's also considered generally safe for all skin types.

Read more about the benefits of using Rosehip Oil during pregnancy here, always check with your doctor prior to use

This serum is infused with all the sleepy vibes of Lavender Oil + Calendula Oil, Jojoba Oil, Rosehip Oil, and other beneficial ingredients to restore your skin overnight. According to healthline.com, "Lavender oil is an essential oil derived from the lavender plant. It can be taken orally, applied to the skin, and breathed in through aromatherapy. Lavender oil can benefit the skin in numerous ways. It has the ability to lessen acne, help lighten skin, and reduce wrinkles." Lavender Oil, along with the other incredible ingredients make MintPear's Rosehip Night Serum a beauty game-changer!

There is no better way to prepare your skin for sleep than Rosehip Night Serum. Use this serum as the last step in your nighttime routine with other MintPear skincare products for incredible skin.

Apply daily to renew your youthful skin elasticity by fighting free radicals while you sleep. Wake up to a fresher, brighter, smoother complexion.

SHELF LIFE: 1 year from purchase date.

STORAGE: store in a cool place, away from direct sunlight.

WARNING: for external use only. Keep away from flames and high heat. Keep out of reach of children.

Pure Organic Rosehip Seed Oil, Jojoba Oil, Pomegranate Seed Oil, Carrot Seed Oil, Red Raspberry Seed Oil, Maraca Oil (Passion Fruit Seed Oil), Tomato Seed Oil, Watercress Seed Oil, Calendula Oil + Lavender Essential Oil.

Leaping Bunny Certified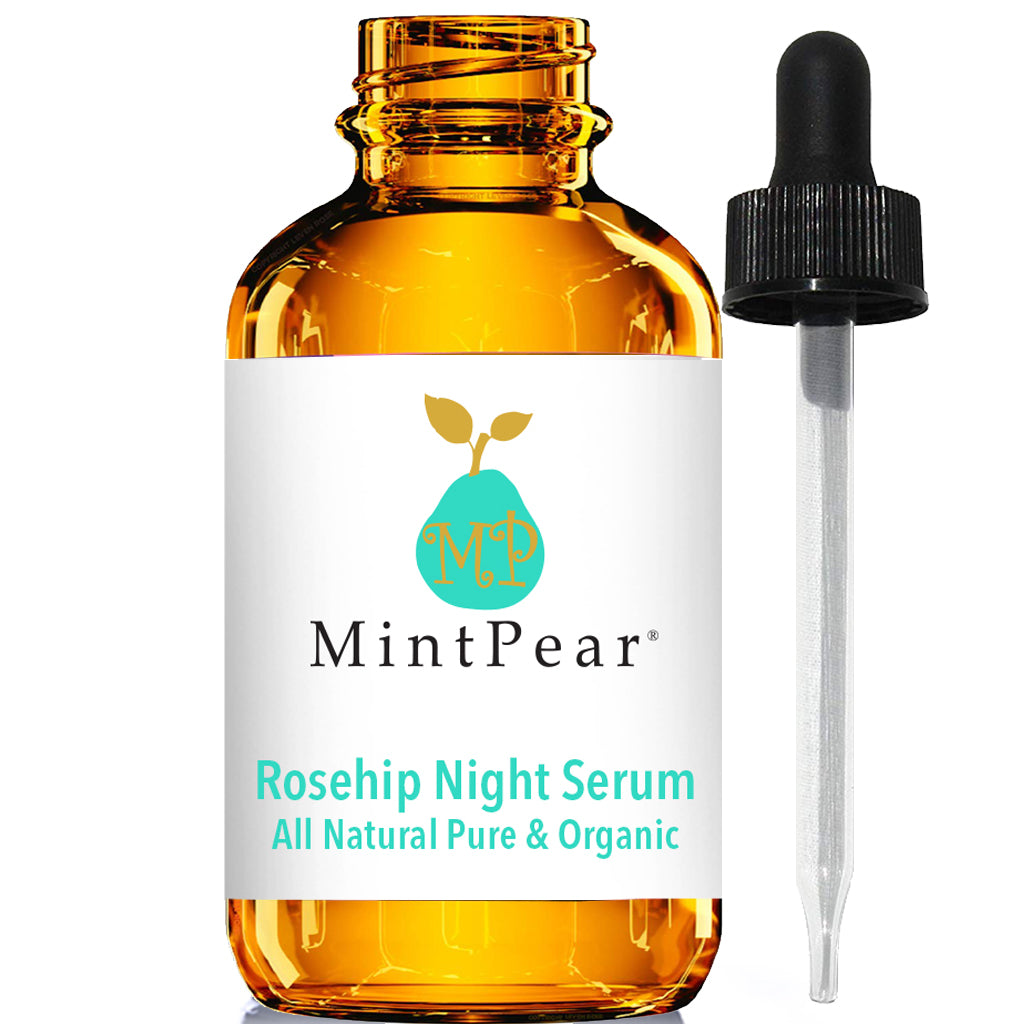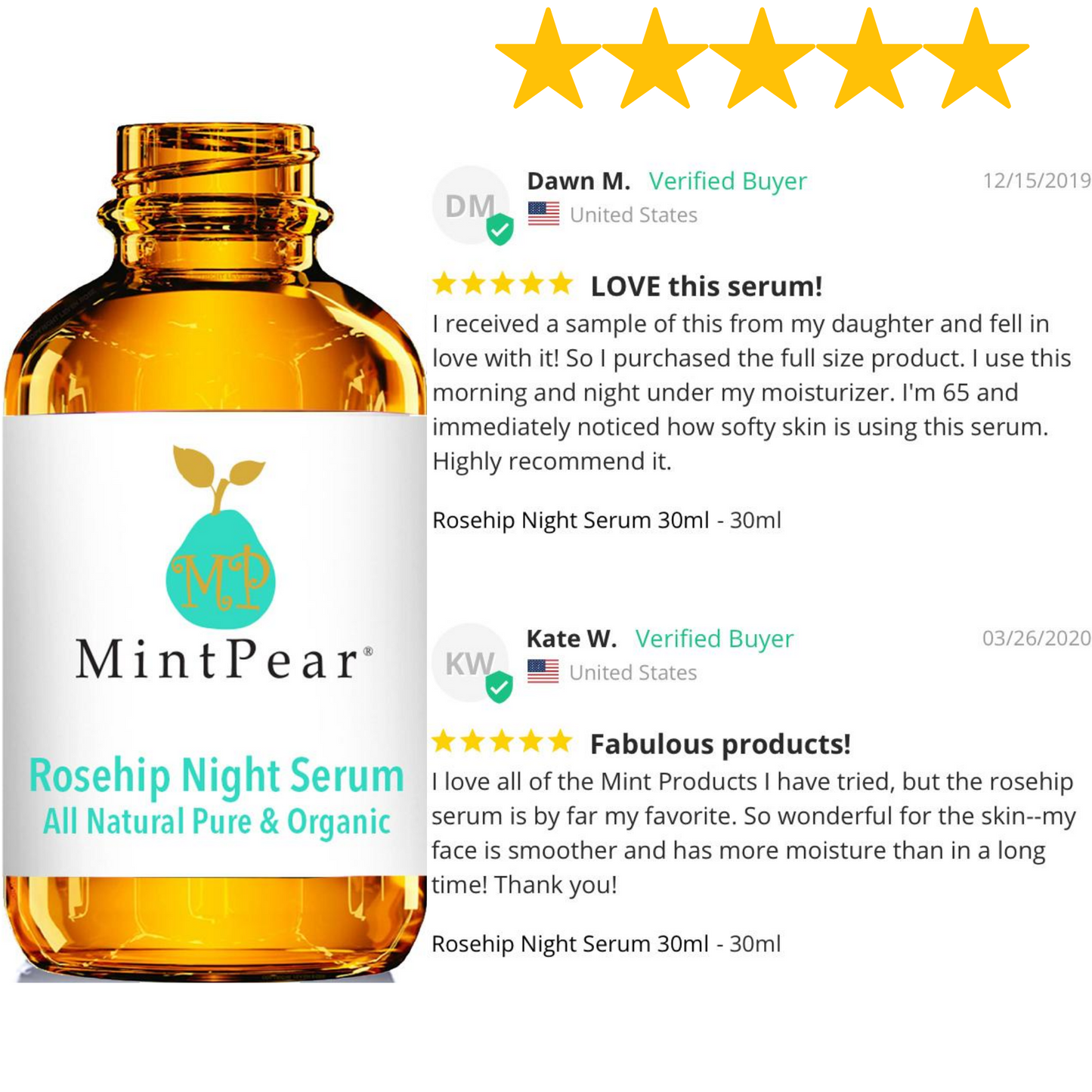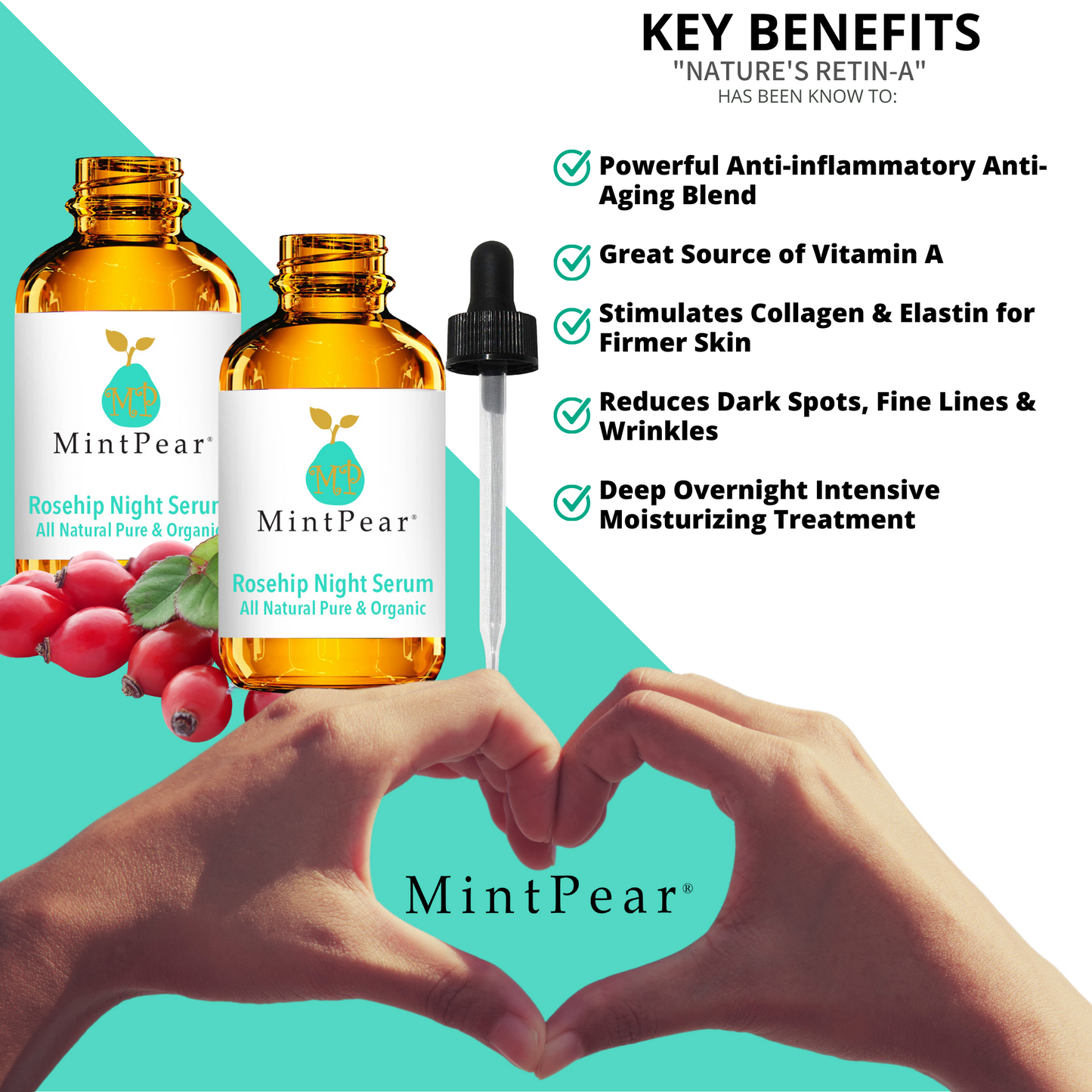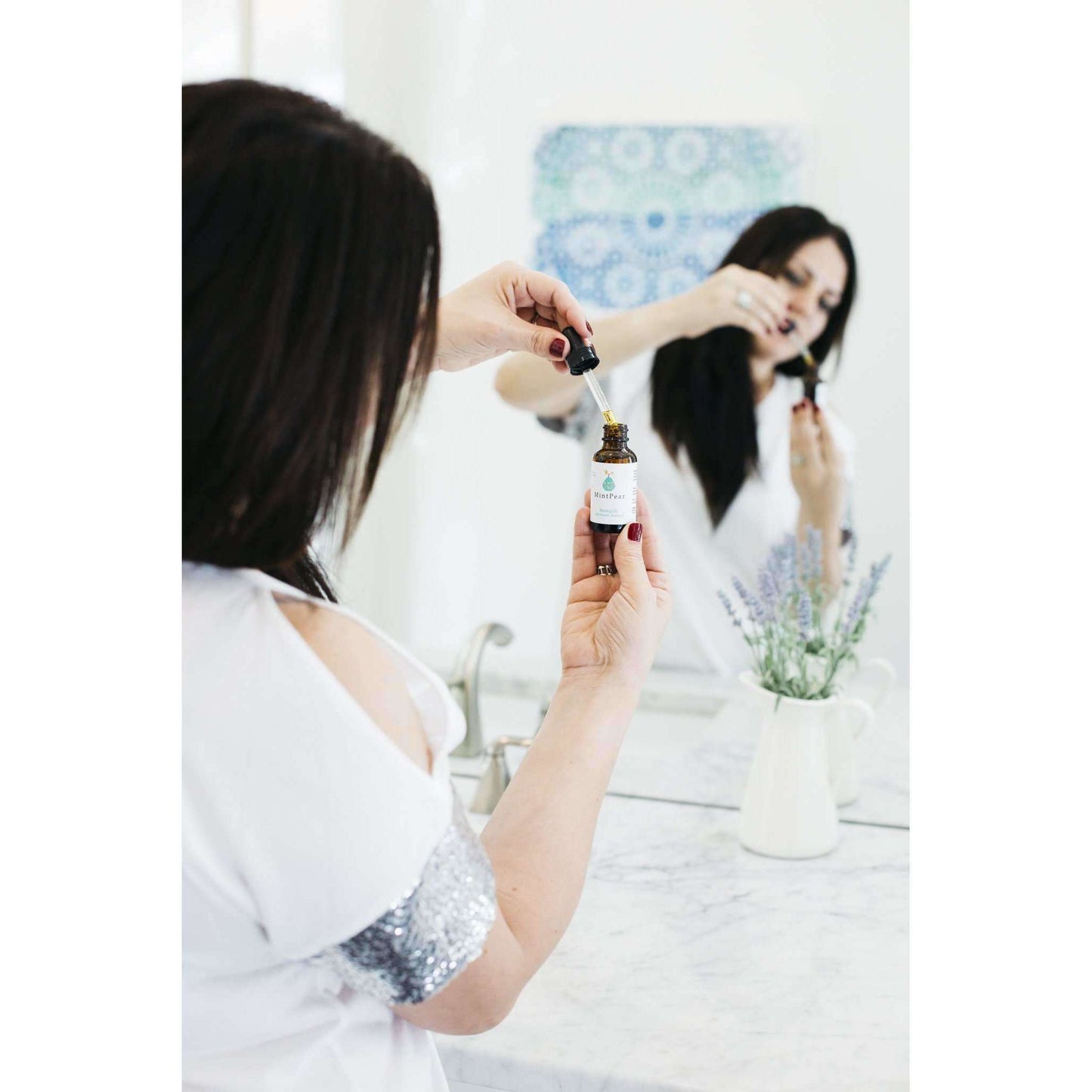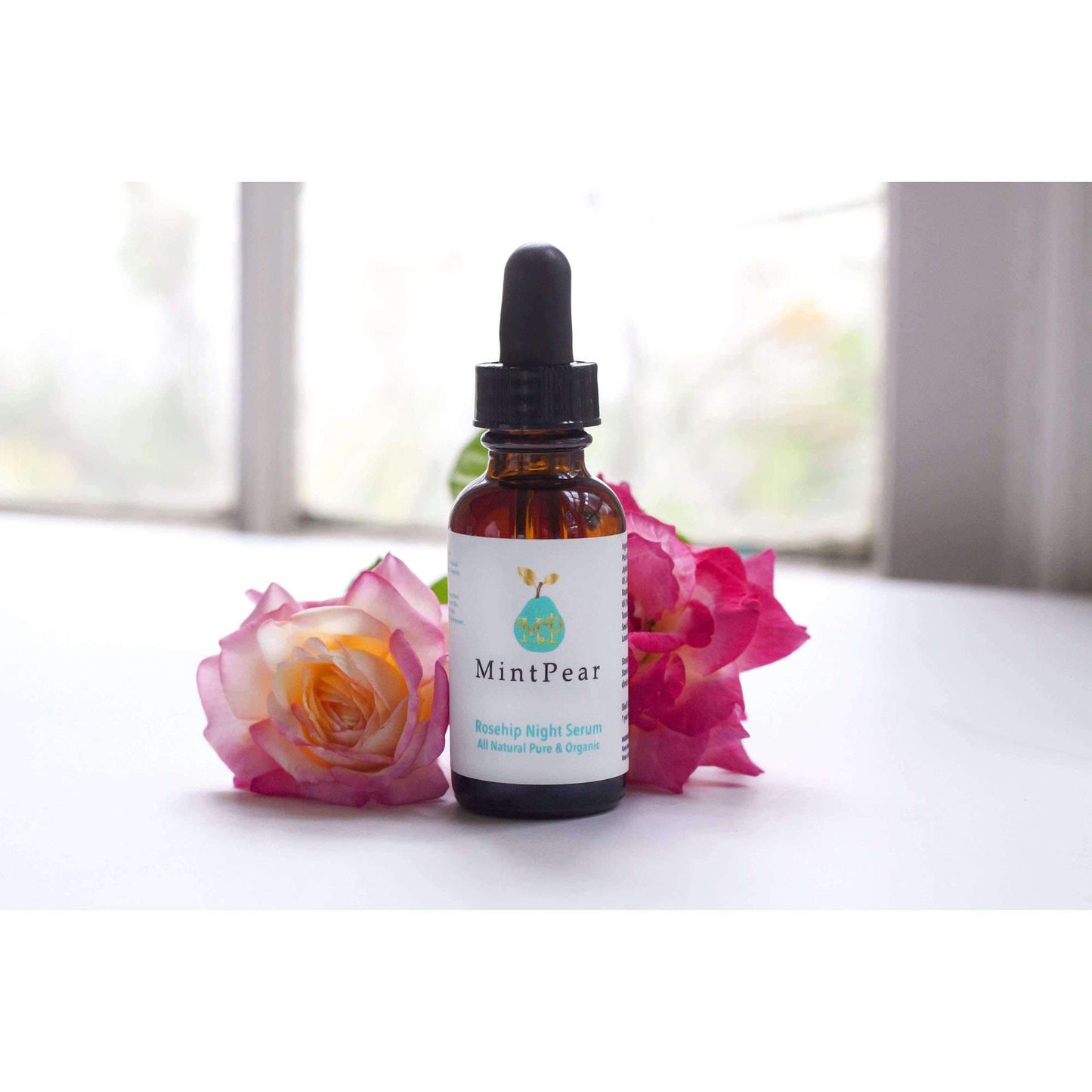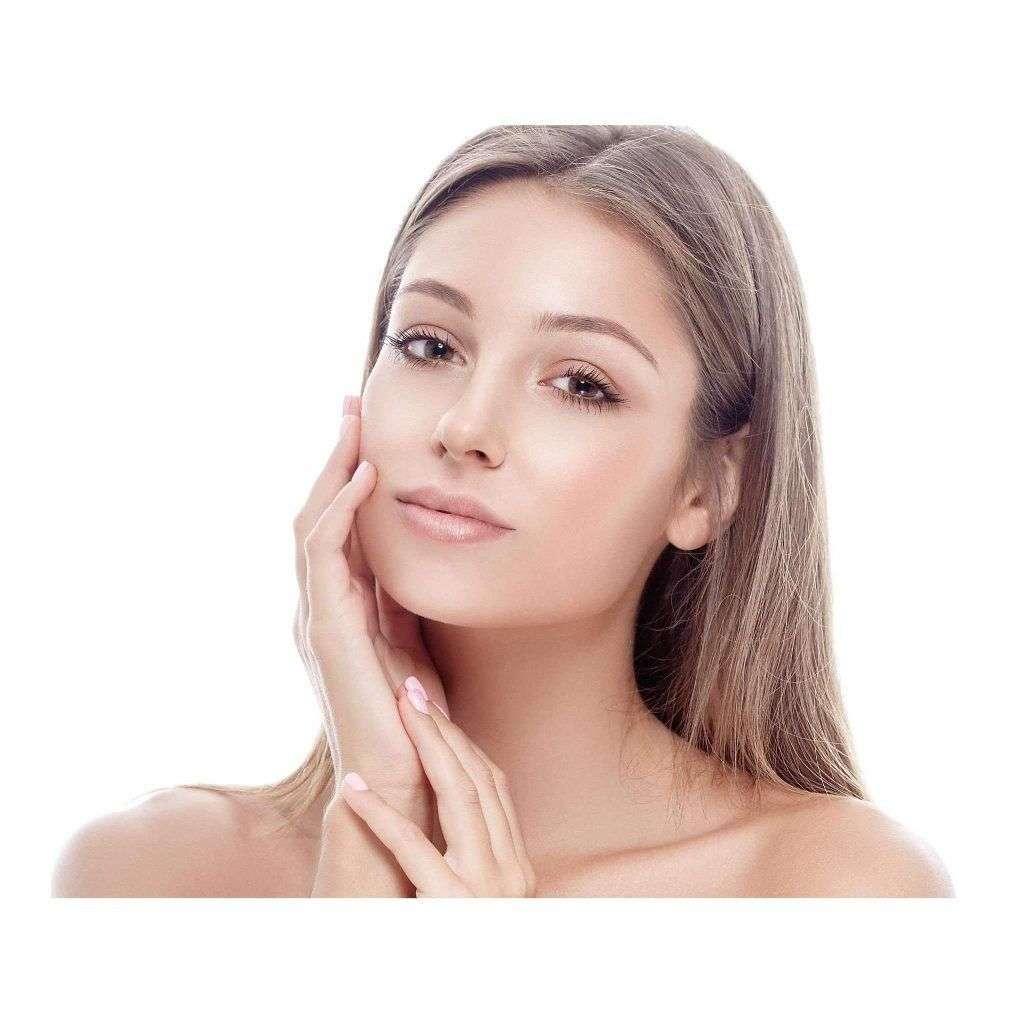 Customer Reviews
08/27/2023
Allison G.

United States
Part of my daily skin routine
I have used this product for a few years and have seen my skin become more even toned and consistently looking more youthful. It is one of my go to's and I always make sure to have a back-up bottle.
12/31/2022
Rachel L.

United States
Great product!
Love it! Feels great on my skin!
09/29/2022
Christina S.

United States
Great product
I love everything about this serum. So nice to put on before bed. Smells good and leaves skin dewy. 4 stars because the dropper lid has broken both times I bought it and the product spilled while the bottle still has lots left :(
Hi Christina! Please contact us and we can ship you a replacement dropper now/with your next order. Thank you for your continued loyalty! We love you. -MintPear Beauty Support
06/29/2022
Sally F.

United States
This makes my skin unbelievably soft. Like the softest skinyouve ever felt! Love this stuff! Idontbreakout. Well worthworth the money for this serum. Ofifthus cant fix your ails it then nothing can!
05/03/2022
Helen J.

United States
FANTASTIC PRODUCT!
This is my FAVORITE PRODUCT EVER! ❤️ I LOVE the way it feels, and the smell of it helps me to relax, and have a restful sleep.