Under Eye Nourishing Creme
Regular price
Sale price
$ 39.00
Unit price
per
Sale
Sold out
15ml


Discover eye-opening results with MintPear's Under Eye Nourishing Creme

It is for you if you are dealing with: Dark Circles, Under Eye Bags, Poofy-Swollen Eyes, Crows Feet, Aging Skin, and Tired-Dull Looking Eyes. You'll feel the creme working right away, and clinical studies have shown signs of improvement within the first week of use!

Do you ever wake up after a rough night's sleep, look in the mirror and it's obvious you're tired from the dark circles, puffy swollen eyes, and bags? Pamper the delicate skin around your eyes with this lightweight, soothing eye cream. With MintPear's Best-Selling Under Eye Nourishing Creme, you can correct and prevent the signs of aging and bring back youth to the eye area. Not to mention, you'll have everyone fooled into thinking you had a good night's sleep, even on those days where sleep was just an idea.

Rich in Grapeseed Oil, and Organic Jojoba Seed Oil (and many other youthful ingredients), the unscented formula absorbs easily and offers an instant moisture boost. Many of Grapeseed Oil's beauty benefits may be due to its vitamin E and omega-6 fatty acid content. Free radicals and environmental factors such as sun, wind, and pollution can do a number on your skin. They may increase the signs of aging and cause dry skin and discoloration. Vitamin E helps battles free radicals, so it may help improve your skin when consumed in your diet. The same benefits may apply when it's applied directly to your skin in the form of grapeseed oil. According to the Linus Pauling Institute, omega-6 and omega-3 fatty acids are crucial to skin function and appearance. And omega-6 fatty acids are necessary for skin barrier functioning. The main omega-6 PUFA in grapeseed oil is linolenic acid. This fatty acid may help reduce inflammation in the skin's middle and outer layers.

This high-performance eye cream revitalizes the eye area for a youthful, brighter appearance. It visibly firms, brightens, evens skin tone, and reduces the appearance of fine lines, wrinkles and dark circles. It has a light, silky feel and absorbs quickly, going deep into your skin's surface so you wake up every morning to younger-looking, radiant eyes.

You can start with your eyes, but the rest of your face will be jealous, so just go ahead and use it wherever you have dry, thirsty nourish needing skin! That's right, though it was designed as an amazingly nourishing Under Eye Creme; it is really so much more! Gentle and supportive of the delicate skin around the eyes, it also caters to the face, neck, chest and beyond, bringing soothing, rejuvenating effects everywhere it is applied.

With emollient-rich Grape Seed Oil and Organic Jojoba Oil, soothing Evening Primrose, nourishing Vitamin E and more, this superb multipurpose creme may have to be renamed - Under Everywhere Nourishing Creme! MintPear's Under Eye Nourishing Creme reveals refreshed and youthful-looking eyes, putting your best face forward.

Ingredient Super Stars:

Grapeseed Oil
Organic Jojoba Oil
Evening Primrose Oil
Vitamin E Oil

Apply AM and PM. Eye cremes are designed to super moisturize the finest skin on your face. When you apply eye cremes, always use your ring finger or pinky to apply products around the delicate area of your eyes. Your pinky and ring finger are weak by nature and force you to apply gentle pressure.

**Due to the number of natural ingredients and because there are not any synthetic preservatives, the Eye Creme does get super liquid in the warmer months. We recommend placing the Under Eye Nourishing Creme and the Vitamin Rich Moisturizer in the refrigerator for 12 hours before use, to help restore the product to the normal consistency, and it's also a soothing added benefit when chilled. It is also acceptable to store in the refrigerator if you desire.

Water, Grapeseed Oil, Organic Jojoba Seed Oil, Emulsifying Wax, Stearic Acid, Organic Evening Primrose Seed Oil, Vitamin E, Sunflower Seed Oil, Phenoxyethanol, Witch Hazel Water, Xanthan Gum, Organic White Willow Bark Extract, Organic Neem Seed Oil, Organic Rosemary Leaf Extract, Organic Sunflower Seed Oil, Organic Alcohol, Tetrasodium Glutamate Diacetate.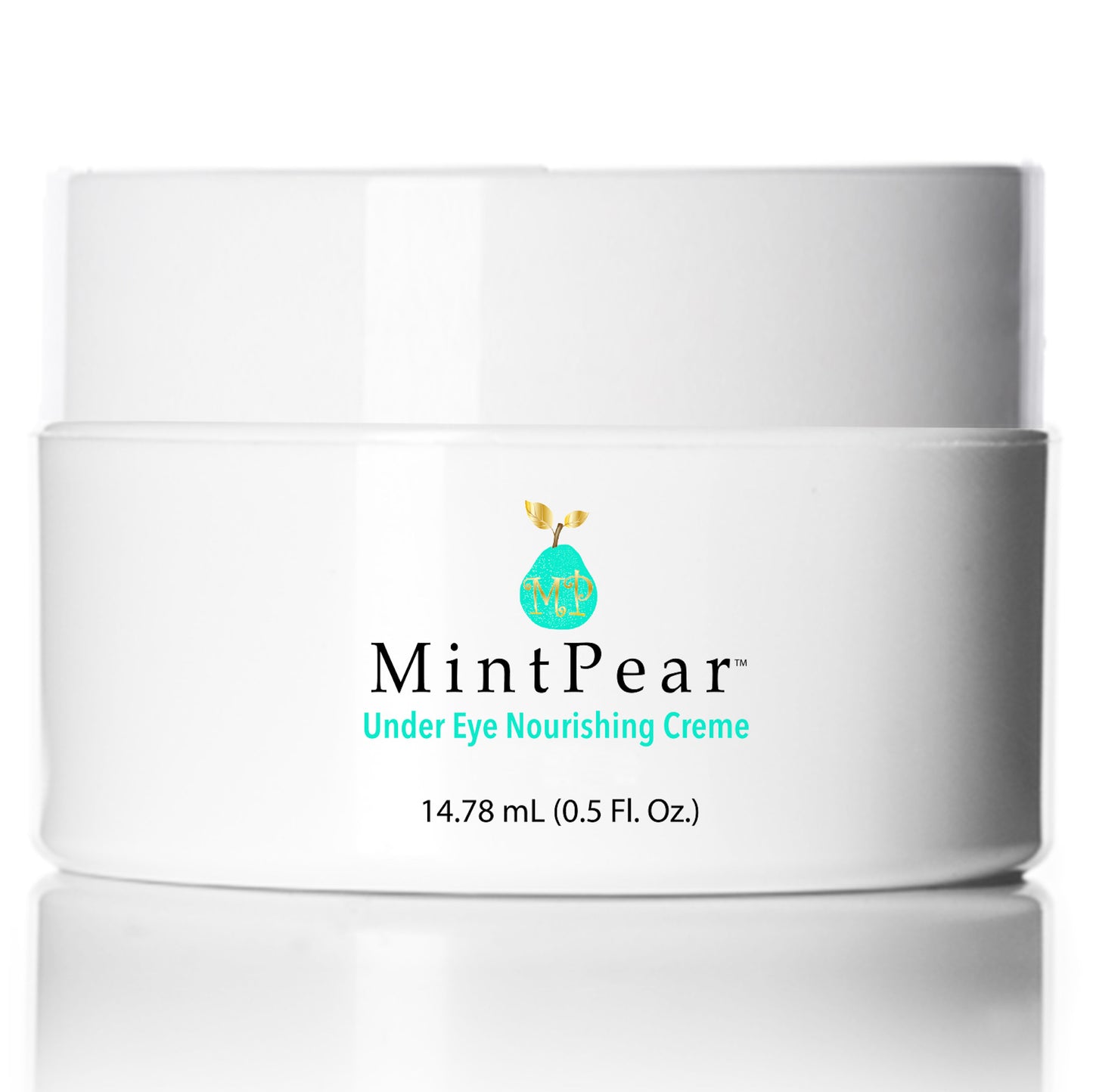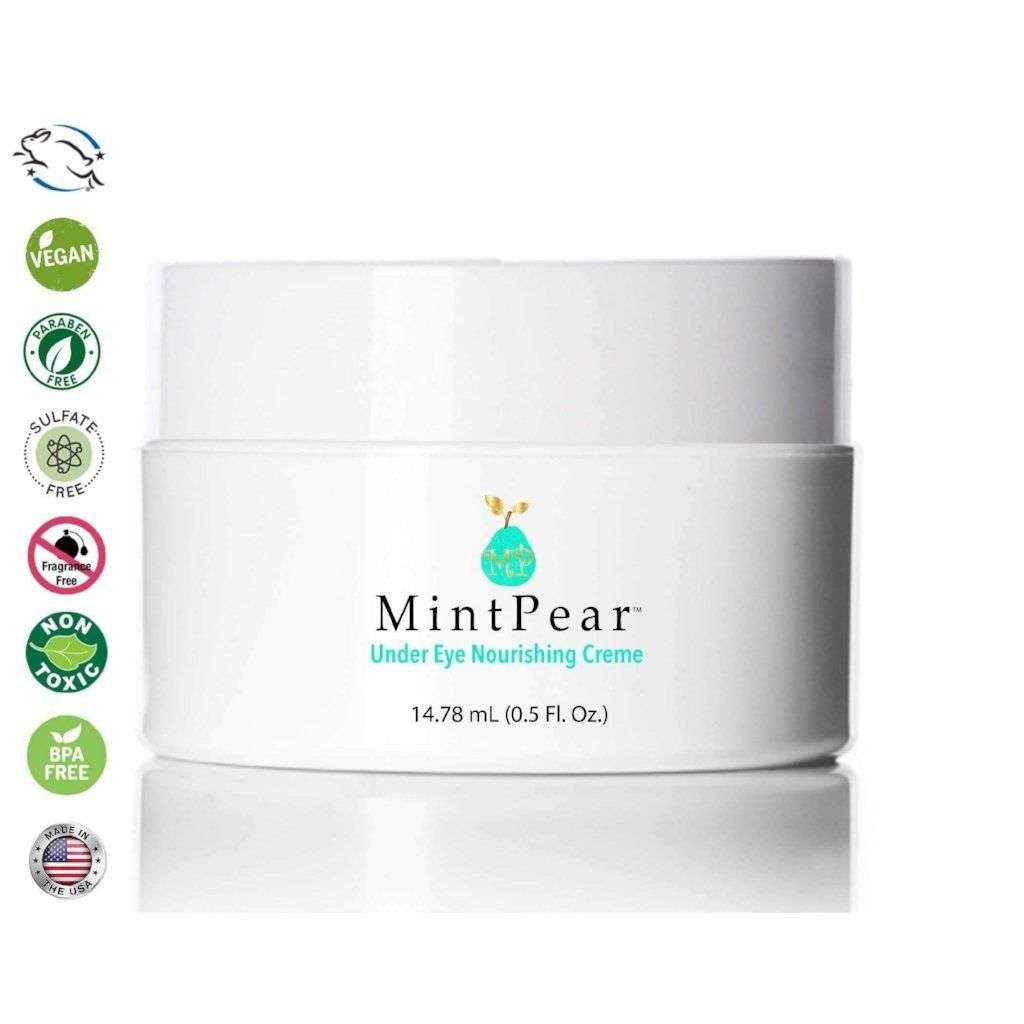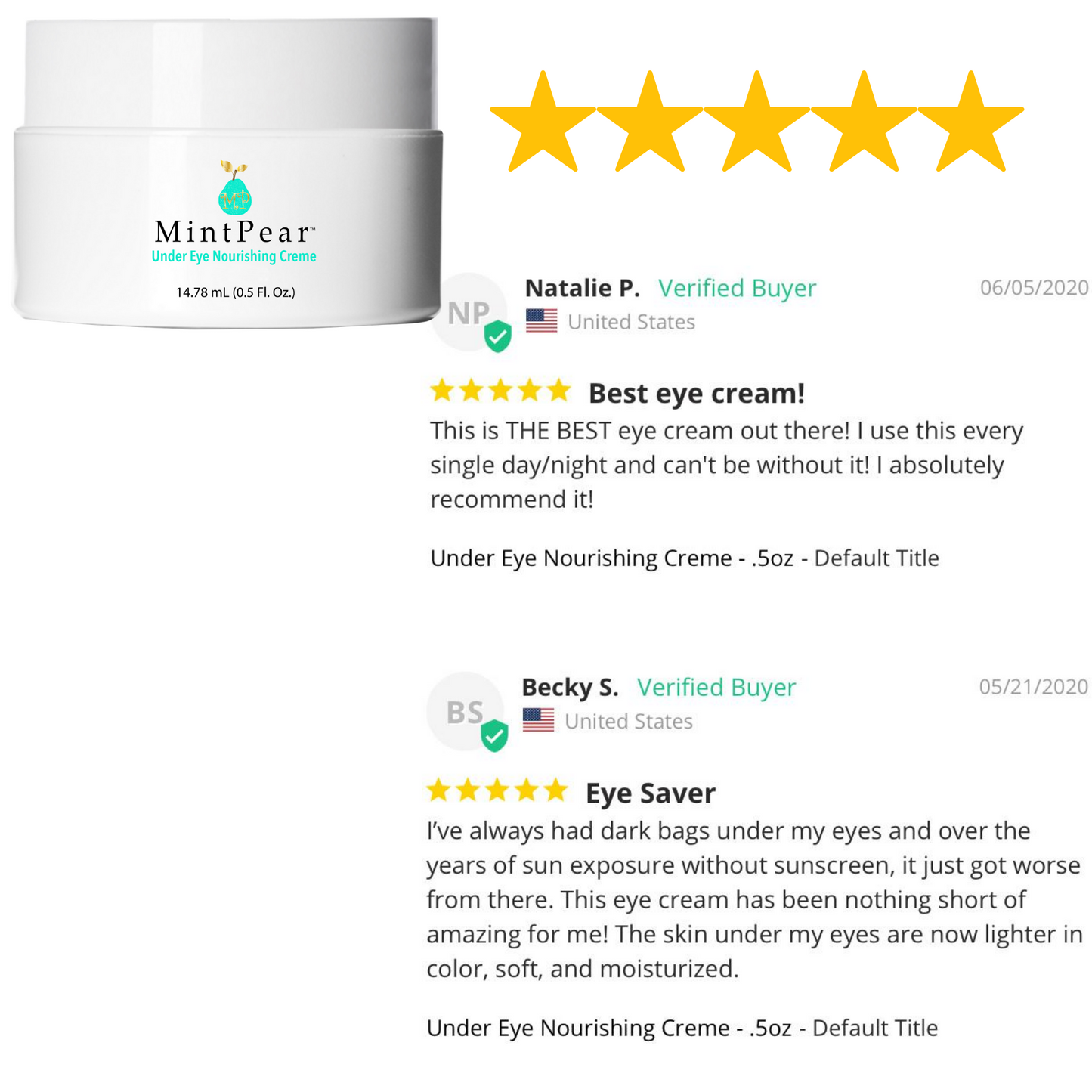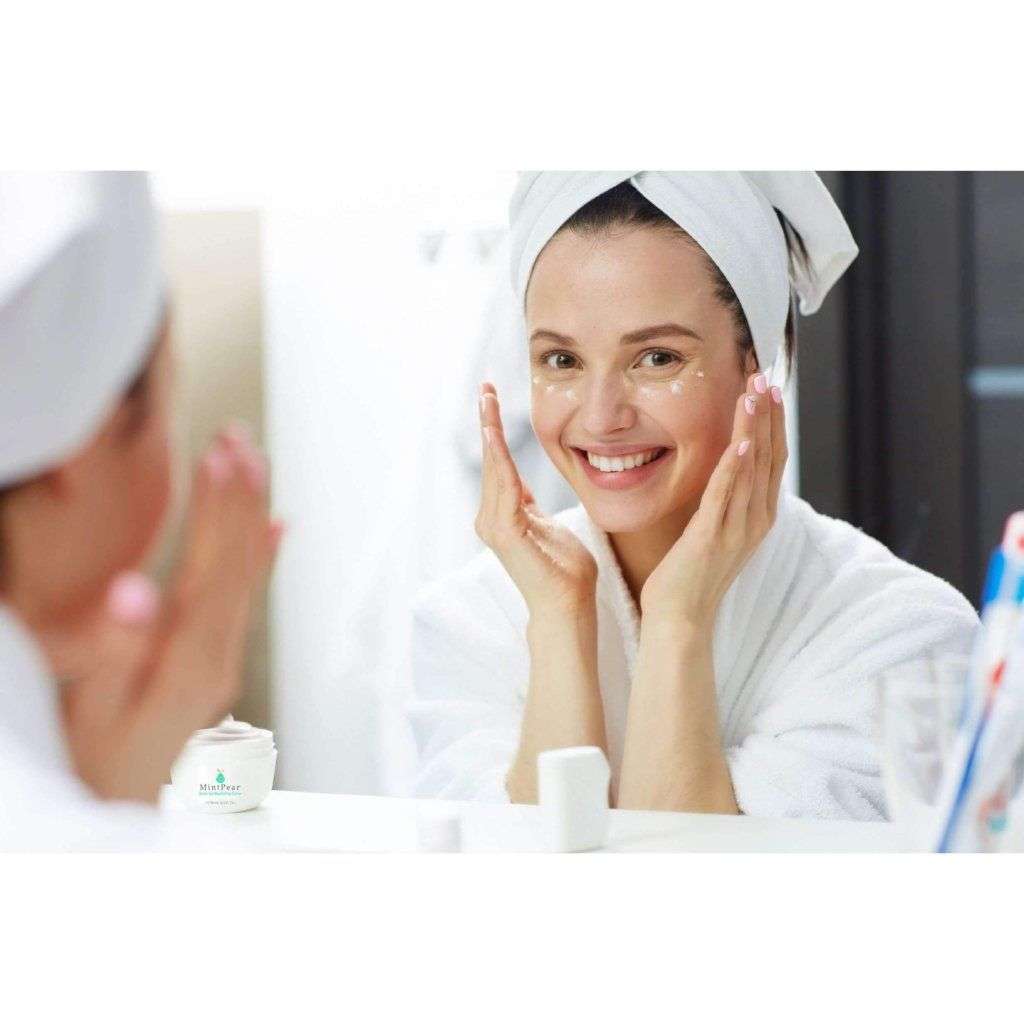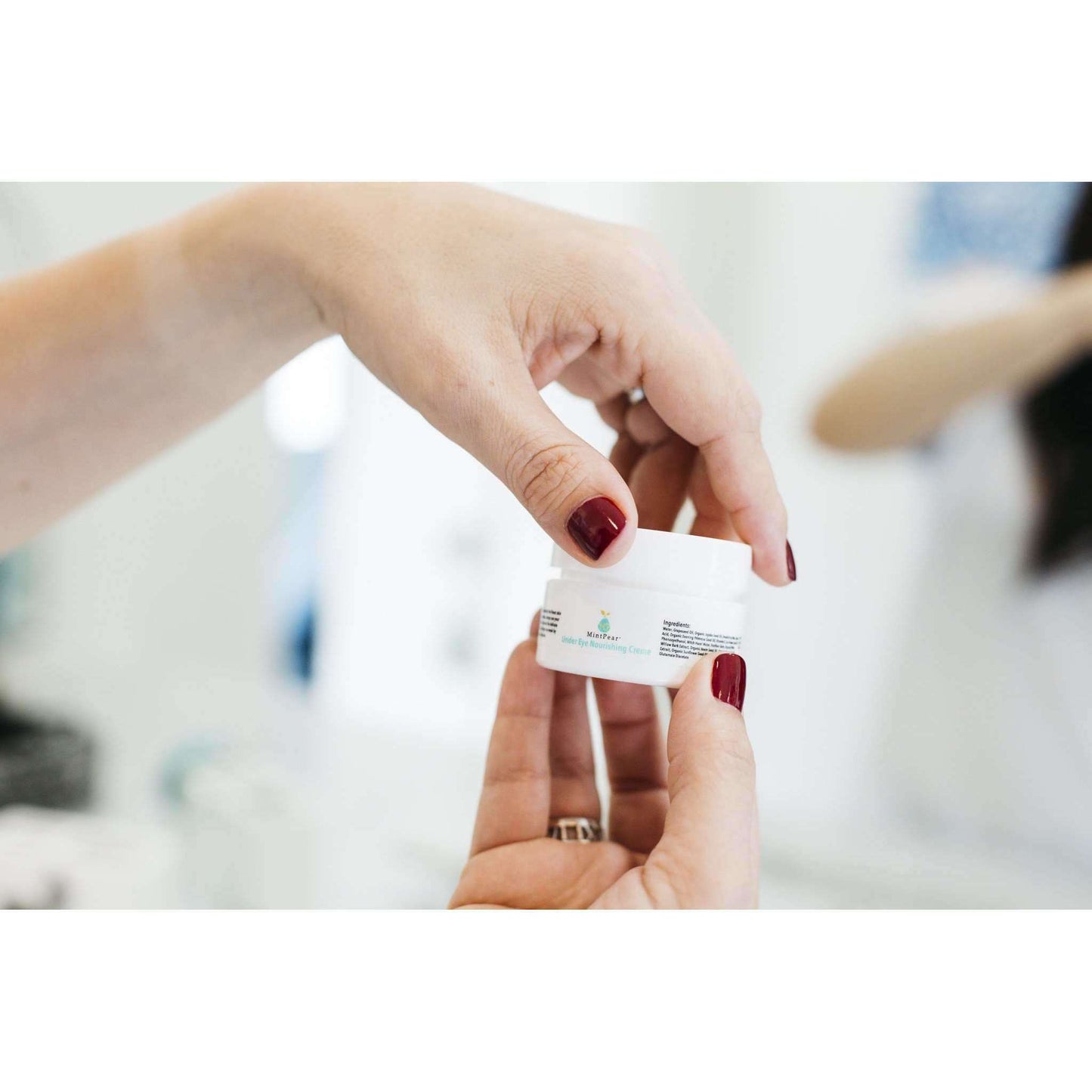 Customer Reviews
12/13/2021
Donna C.

United States
Eye cream
I've ordered several times. This time I ordered 3….one for me and 2 for gifts. They're pretty liquidy this time…almost spilled mine when opening. I know about putting in fridge, which I did, but even after refrigerating they've never in the past been this thin, even in the hot summer.
06/05/2021
Kristine C.

United States
False Promise
Product does not reduce bags under eyes
04/28/2021
Wendy F.

United States
Runny
Does not hold its creaminess. Turns to liquid. Messy jar
Hi Wendy, simply store in the refrigerator during warmer months to keep consistency. Since we don't use any synthetic preservatives, it's natural for natural oils and other natural ingredients to separate. Hope this is helpful.
03/06/2021
Donna C.

United States
Can't be without this amazing stuff!!
I absolutely LOVE this !!! I've been using it quite awhile and won't let myself run out of it !!
10/03/2020
Brenda R.

United States
Eye Nourishing Cream
Only used for a few days but not as good as the eye cream I was using. This was less expensive so thought I would try. I don't like the smell and does not keep my eye area moist all day like the previous cream did. I may just have to pay the extra amount and go back to it.