Sea Buckthorn Seed Oil
Regular price
Sale price
$ 14.00
Unit price
per
Sale
Sold out
30ml

ANTI-AGING POWER HEALER—100% Pure, Organic & Unrefined

When it comes to skincare ingredients, we're always looking for the next big skin breakthrough, but you won't need to look any further once you've discovered Sea Buckthorn Seed Oil.

Sea Buckthorn Seed Oil has been used for thousands of years as a natural remedy against various ailments. It is extracted from the berries, leaves, and seeds of the sea buckthorn plant (Hippophae rhamnoides), which is a small shrub that grows at high altitudes in the northwest Himalayan region. Rich in palmitoleic fatty acid, palmitic fatty acid, vitamin E, carotenoids, Sea Buckthorn Seed Oil moisturizes, renews skin cells, heals acne scars, and slows signs of aging. For instance, studies have shown that the oil may help stimulate skin regeneration, helping wounds heal more quickly.

Ditch those chemically-laden acne products once and for all and let nature heal your skin!

Acne is a result of inflammation in the skin and because one of the most well-known effects of MintPear's Sea Buckthorn Seed Oil is its ability to drastically reduce inflammation, you can be sure you'll be well on your way to that clear skin of your dreams when you start applying it topically. Sea Buckthorn Seed Oil is excellent for reducing acne breakouts because it signals the oil glands to stop creating excess amounts of sebum. Sea Buckthorn Seed Oil will reduce inflammation in the skin, prevent future flare-ups, help to fade scars and promote an overall more even and smoother skin texture.

Unlike conventional acne products, Sea Buckthorn Seed Oil will begin to heal your blemishes without drying out your skin. What you may not realize, is that those conventional and harsh products and ingredients that dry out your skin are actually increasing your risk of breakouts. Wow! Drying out your skin has two negative effects. First it creates a poor environment for your healthy skin bacteria, leading to an unbalanced skin microbiome (aka more breakouts). Second, drying out the skin prompts your skin to try to compensate for the lack of oil often by creating more oil, which can then cause breakouts. . . and so the cycle continues. Never-ending. With Sea Buckthorn Seed Oil, you can put an end to this cycle.

If you're looking for a long-term fix for your breakouts then Sea Buckthorn Oil is just what your skin has been waiting for.

After cleansing with your MintPear Cleanser, pat skin dry, and massage a few drops gently in an upward motion onto your face every morning followed by your MintPear Moisturizer to combat dryness, heal acne scars, soothe eczema, heal sunburns, and smooth wrinkles.

SHELF LIFE: 1 year from purchase date.

STORAGE: store in a cool place, away from direct sunlight.

100% pure, organic, cold-pressed, Sea Buckthorn Seed Oil (Hippophae Rhamnoides).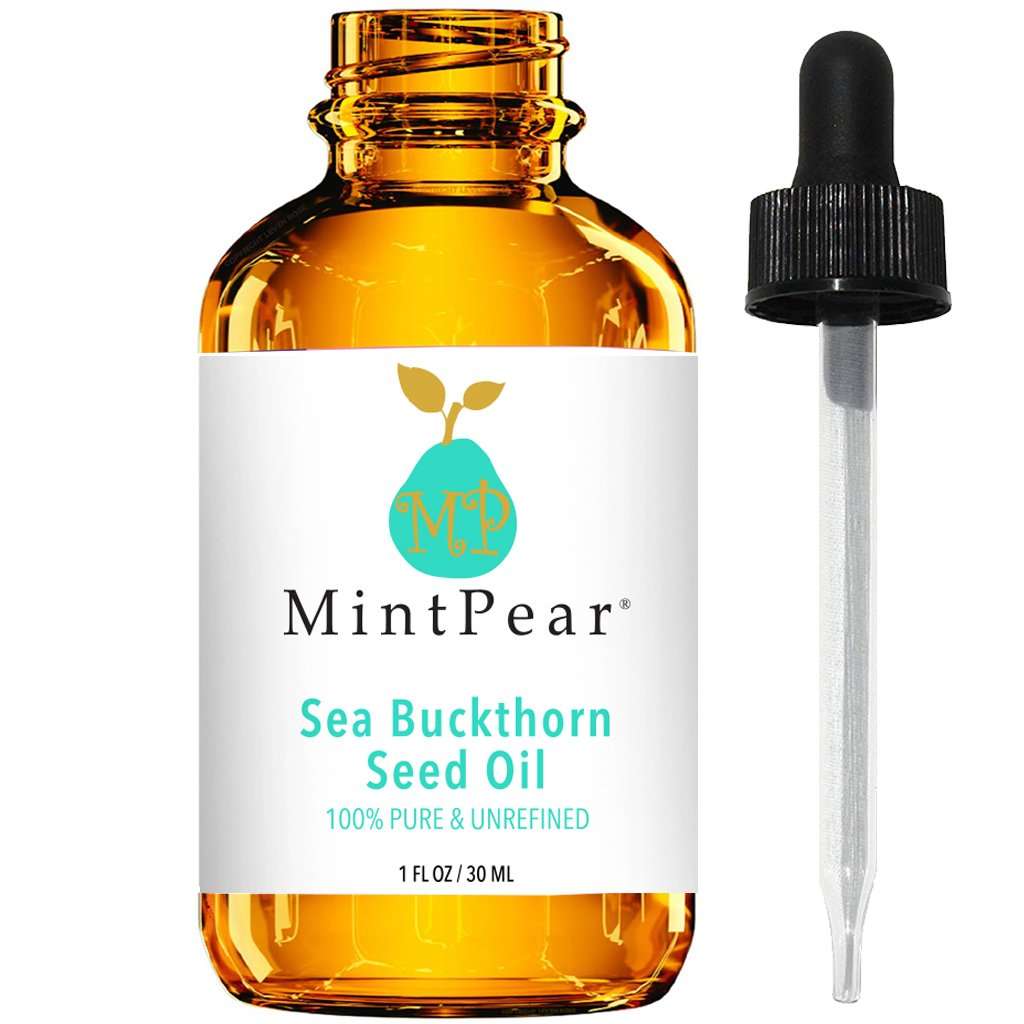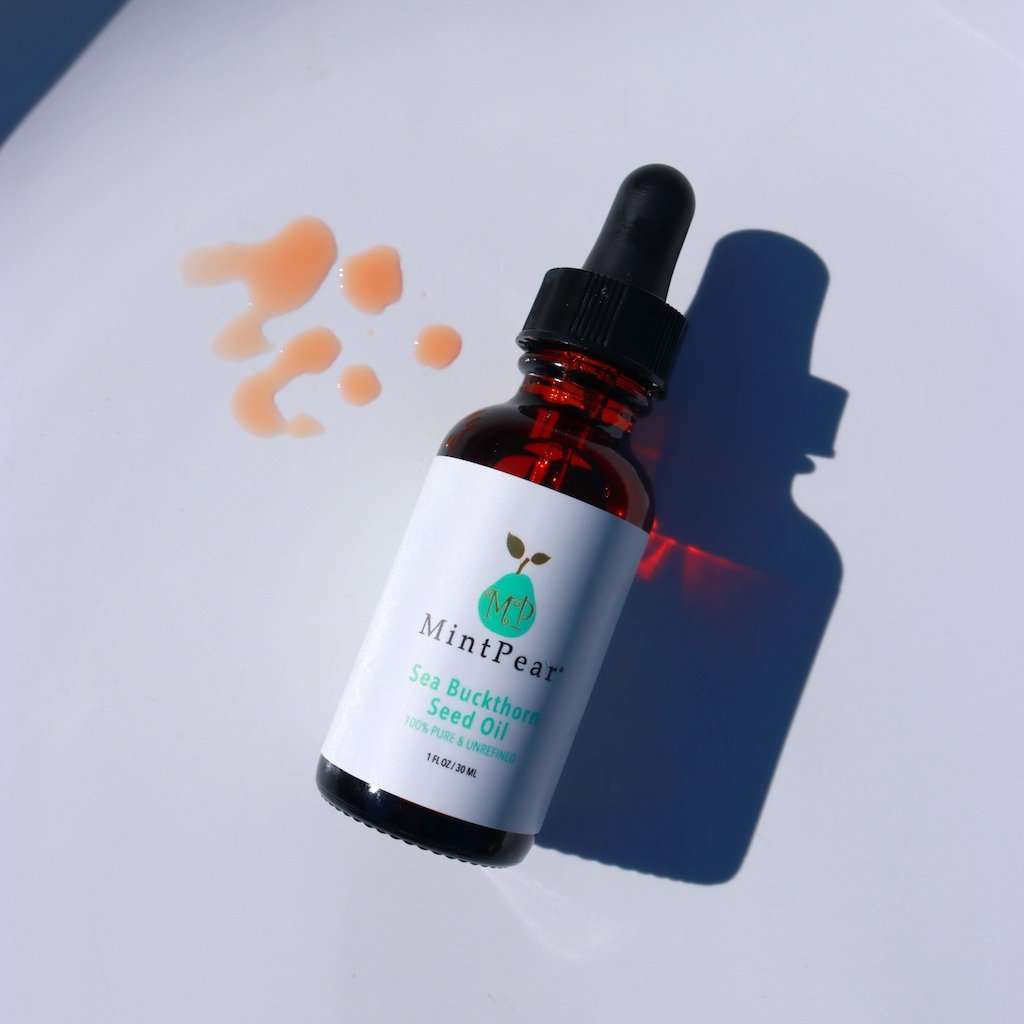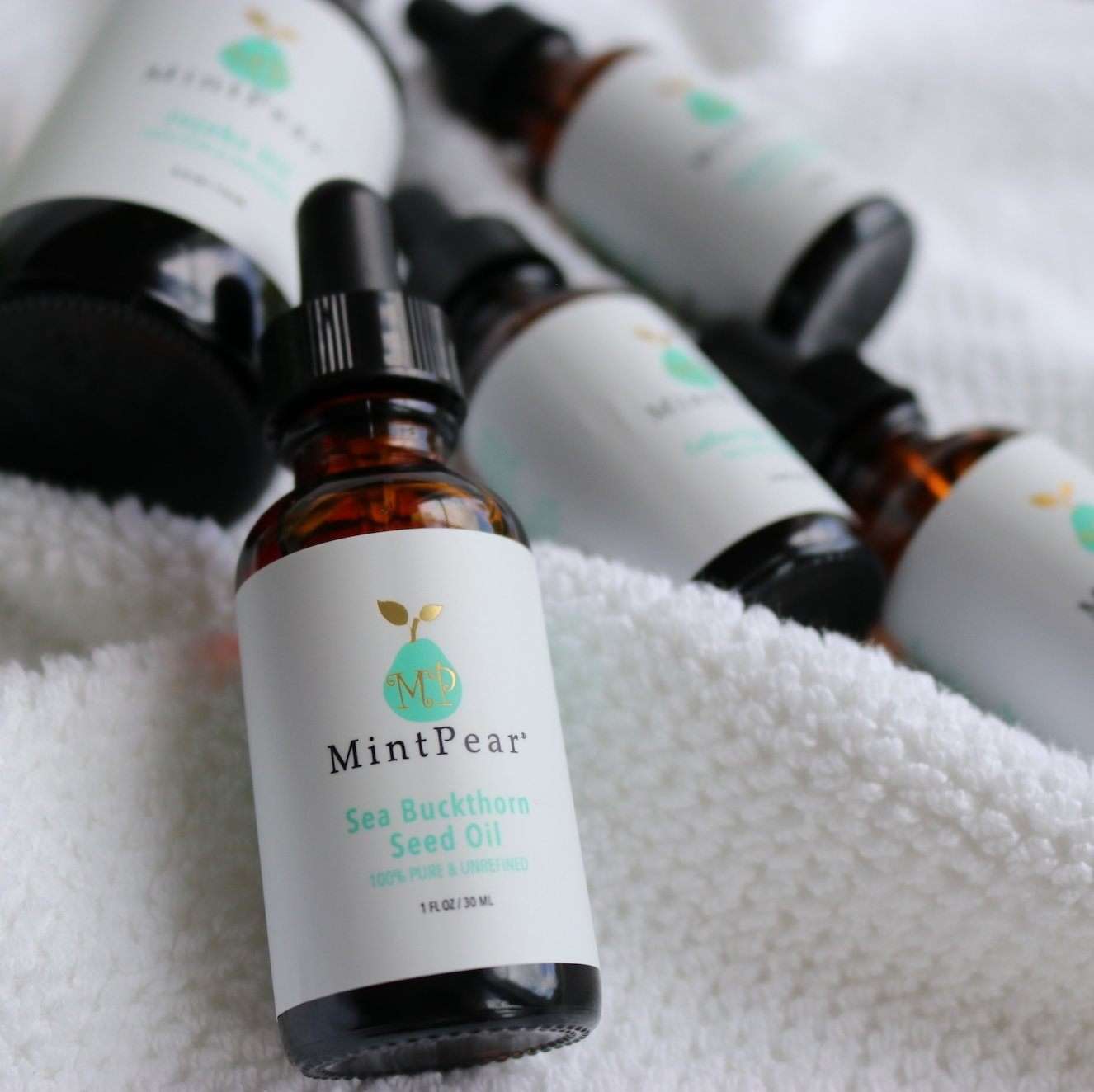 Customer Reviews
10/30/2020
Melissa W.

United States
EXCELLENT FOR SKIN!
I think the quality of this product for the price is excellent. Great pure ingredients and I'm already starting to see results.
06/12/2020
Delia C.

United States
Has helped skin texture
I have been using this for a week, skipped one night and won't do that again. Has given the moisture that I've been needing.
Delia! You are like our Queen! We love you and your continued support throughout all these years. TYSM ❤️ ❤️
02/29/2020
Bunny

United States
So good!
This was my first time ever trying this oil. My skin feels soft, lustrous and so smooth it's unreal. I wear this every morning and night, (morning with the jojoba oil) and night-time along with the rosehip night serum and I wake up to the best skin ever! It's only been a week of use. Also, the oil looks like melted amber. Love, love, love. Will be getting my next bottle very soon.
Bunny, yay! I am so glad your are loving the rosehip night serum, and the Jojoba oil. Best stuff ever. Thank you for sharing your amazing results and thoughts with our community. XO - Rita
06/11/2019
Evette C.

United States
Nice
I am enjoying using my product it's very nice and natural, I also liked the way it was packed so nicely and pretty, will buy again!
Evette, thank you for sharing with our community. So glad you are liking your products. XO