Rose Quartz Roller & Rosehip Night Serum Bundle
Regular price
$ 68.00
Sale price
$ 58.00
Unit price
per
Sale
Sold out
MintPear's Rosehip Night Serum is an all-natural, pure, and organic night time treatment to repair and heal your skin's texture, and overall appearance.

Rosehip Night Serum has been known for:

Powerful Anti-inflammatory Anti-Aging Blend
Also Known As: "Nature's Retin A" - Rosehip is a great source of Vitamin A
Stimulates Collagen & Elastin for Firmer Skin
Reduces Dark Spots, Fine Lines & Wrinkles
Deep Overnight Intensive Moisturizing Treatment

As you may have guessed from its name, Rosehip Oil is the main ingredient in this serum. And let me take a moment to tell you all the AMAZING benefits that Rosehip Oil contributes to skin.

Rosehip Oil is harvested from the seeds of rose bushes and is full of vitamins, antioxidants, and essential fatty acids that work wonders for your skin. Not only do the fatty acids and Vitamin A in Rosehip Oil moisturize the skin, but they also promote skin regeneration, and can improve skin flexibility and permeability. This means that Rosehip Oil products can improve skin texture and even reduce the appearance of acne scars or stretch marks. Scientific studies showing Rosehip Oil's promise make it an intriguing option for anyone looking to reduce the visible signs of aging, clear up scarring, or otherwise improve their skincare routine. Not only is it reasonably affordable and easy to use, but it's also considered generally safe for all skin types.

Using Rose Quartz as a facial roller is known to remove toxins from the skin, smooth fine lines, decrease dark circles and under-eye bags, ease tension headaches, calm inflammation, heal breakouts, brighten skin, and create an overall feeling of "zen."

Read more about the benefits of using Rosehip Oil during pregnancy here, always check with your doctor prior to use.

This serum is infused with all the sleepy vibes of Lavender Oil + Calendula Oil, Jojoba Oil, Rosehip Oil, and other beneficial ingredients to restore your skin overnight. According to healthline.com, "Lavender oil is an essential oil derived from the lavender plant. It can be taken orally, applied to the skin, and breathed in through aromatherapy. Lavender oil can benefit the skin in numerous ways. It has the ability to lessen acne, help lighten skin, and reduce wrinkles." Lavender Oil, along with the other incredible ingredients make MintPear's Rosehip Night Serum a beauty game-changer!

There is no better way to prepare your skin for sleep than Rosehip Night Serum. Use this serum as the last step in your nighttime routine with other MintPear skincare products for incredible skin.

100% Genuine Rose Quartz Roller | High-Quality Welded Steel | Noiseless | Velvet Pouch Protector/Storage | Clear Acrylic Handle

BENEFITS:

Immediate Glow
Lymph Drainage (removal of toxins)
Reduce Puffiness and Dark Circles
Stimulates and Lifts Facial Muscles
Improves Skin's absorption of Product/Penetrates Serums Deeper Into the Skin
Increase skin's elasticity and buoyancy

MintPear's Rose Quartz Roller is used to support blood circulation, gives skin a more elastic feel, a more toned look, and the appearance of reduced pores. This roller has a large and small stone for easy, effortless movements all over the face. It also comes with a duster bag for storage and travel.

Rose Quartz is known to have healing properties such as restoring trust and harmony in relationships, encouraging unconditional love. Rose Quartz purifies and opens the heart at all levels to promote love, self-love, friendship, deep inner healing and feelings of peace. Calming and reassuring, it helps to comfort in times of grief.

Using Rose Quartz as a facial roller is known to remove toxins from the skin, smooth fine lines, decrease dark circles and under-eye bags, ease tension headaches, calm inflammation, heal breakouts, brighten skin, and create an overall feeling of "zen."

Simply apply a few drops of the Rosehip Night Serum after cleansing and toning, pat into the skin. Follow by rolling gently with the Rose Quartz Roller, in an upward and outward motion. Repeat nightly.

*Pro Tip - Put your MintPear Rose Quartz Roller in the fridge 10 minutes before use. The stone is naturally cold, but this extra temperature drop will aid in your efforts to increase circulation, drain congested lymph nodes, rid the body of toxins/waste, stimulate collagen production, help with sinus issues and balance chi.

How to Clean Your 100% Genuine Rose Quartz Roller: simply wipe clean with a DRY, clean washcloth. DO NOT USE WATER TO CLEAN. DO NOT SUBMERGE INTO WATER.

Rosehip Night Serum

Pure Organic Rosehip Seed Oil, Jojoba Oil, Pomegranate Seed Oil, Carrot Seed Oil, Red Raspberry Seed Oil, Maraca Oil (Passion Fruit Seed Oil), Tomato Seed Oil, Watercress Seed Oil, Calendula Oil + Lavender Essential Oil.

Leaping Bunny Certified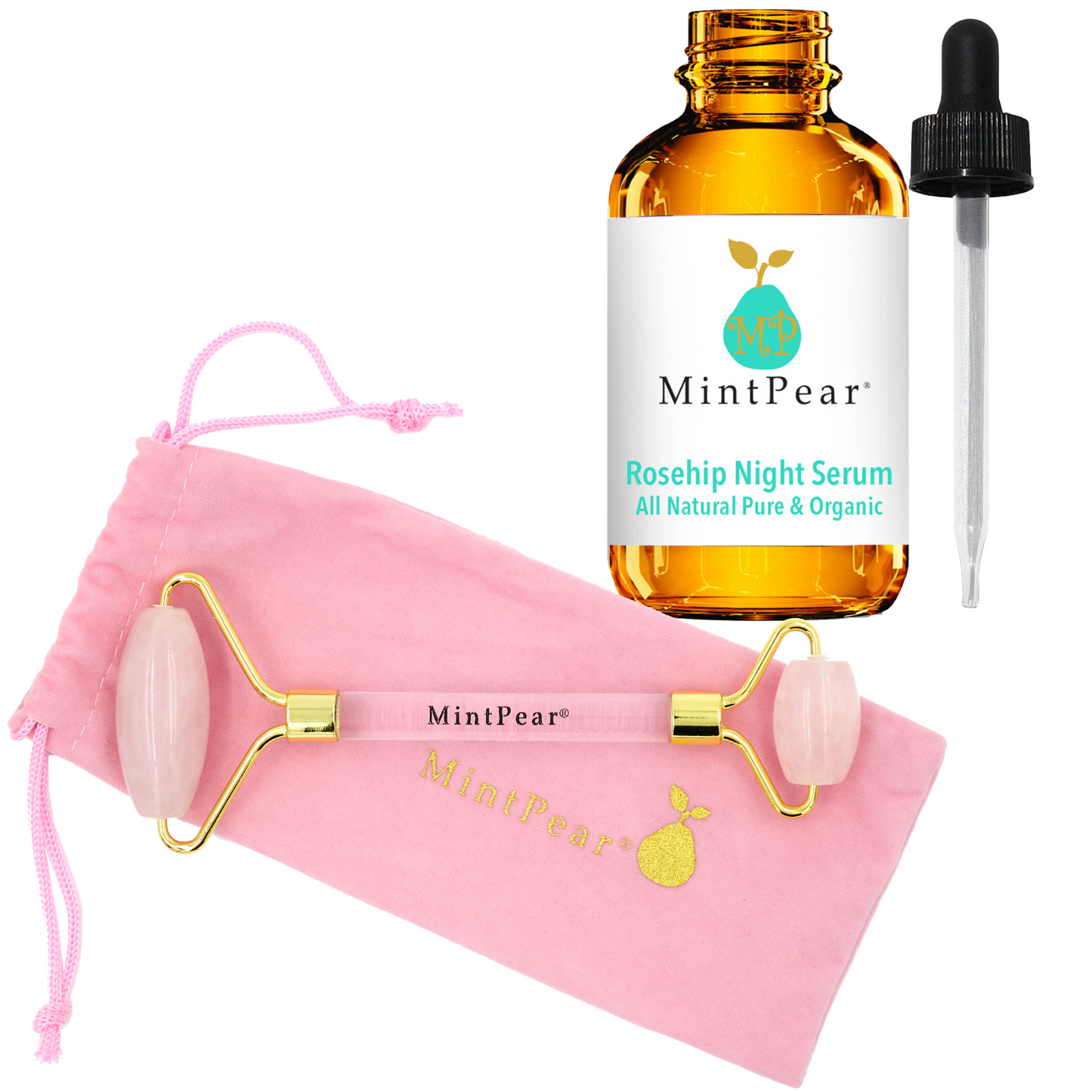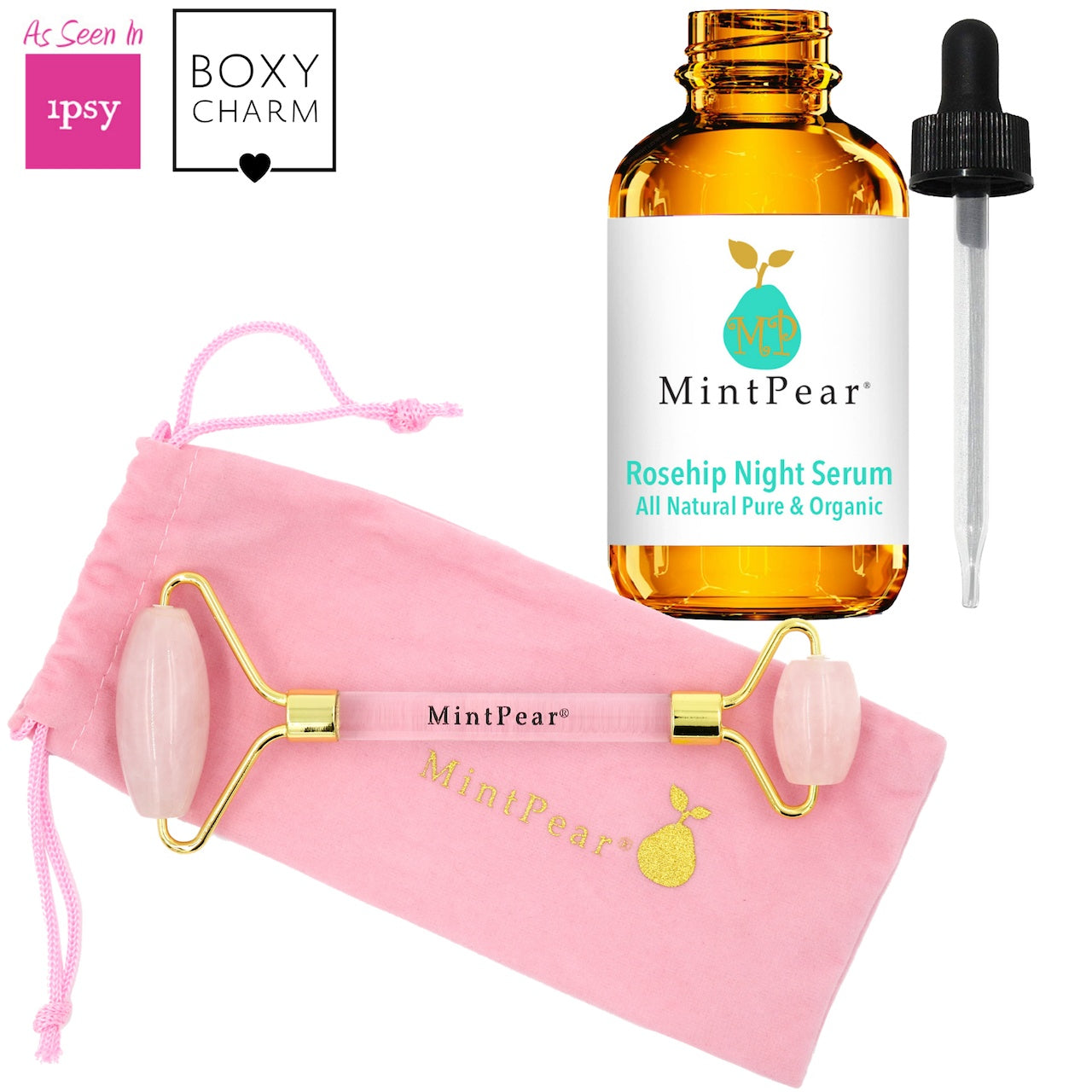 Customer Reviews
06/29/2020
Justin S.

United States
Insert "F" word here: FABULOUS
I freaking love this rose quartz roller. I'm a man, so it's not just for women. This jewel is for all lovely people. You don't even have to be lovely. After using this though, you will become lovely. Or even more lovely! Thank you Rita & MintPear.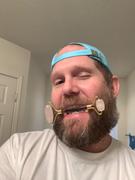 Hi, Justin! Yesss! This is so wonderful. We love everything about this! ! Thank you for sharing the great pic too!
Rose Quartz
Great. I am enjoying using it. I see a difference in my skin
02/16/2022
Leslie L.

United States
Obsessed with this serum!
It is now a must in my night routine.. I love the way it makes my skin feel.hydrated but not greasy. I absolutely love it!
11/01/2021
Sharon Y.

United States
Love this product!
Excellent! I love the feel and scent of this serum. I use it every night and it truly feels wonderful and I think the rosehip fragrance helps me sleep!
08/31/2021
Brandy M.

United States
Best Product
I'm 40 years old with combination skin and have been using Rosehip Night Serum for a couple of years. My adult acne is gone, my scars are barely noticeable and my skin is so moisturized. I wear less makeup now than when I was 20. Great product and company! They notice and reward loyal customers!