Daily Skin Routine + C Your Youth - Vitamin C Serum
Regular price
Sale price
$ 159.00
Unit price
per
Sale
Sold out
MintPear Daily Skin Routine + 'C Your Youth' - Vitamin C Serum
SUBSCRIBE TODAY AND SAVE 30% Every Month! Now your favorite MintPear products will conveniently arrive at your doorstep before they've run out + receive VIP discounted pricing when you subscribe!
***TO PAUSE/CANCEL SUBSCRIPTION YOU MUST EMAIL SUPPORT@MINTPEAR.COM 48 HOURS PRIOR TO ANY RE OCCURRING ORDER****  
This monthly Subscription Box Includes 4 Items:
•(1) Clarifying Daily Facial Cleanser 4oz (with Activated Charcoal)
•(1) Vitamin Rich Daily Moisturizer 4oz (Ultra Rich Moisturizing Creme with Retinyl)
•(1) Nourishing Under Eye Creme .5oz
• (1) 'C Your Youth' - Vitamin C Serum 15ml
If you are looking for more radiant skin, then try our daily skin routine plus vitamin c serum. This set will hydrate and replenish your skin to reveal a more youthful glow.
•(1) Clarifying Daily Facial Cleanser 4oz (with Activated Charcoal)
Packed with extracts, vitamins, and oils that will moisturize so as not to destroy your lipid barrier
Effective for all skin types
Crème-based cleanser with surfactants
How to use:
Cleanse your face and neck every morning and night. Always cleanse in circular motions in an upward direction. Be gentle with your skin; you do not need heavy pressure to cleanse. You don't need to use anything but your hands; washcloths are optional.
The Difference:
This cleanser is so gentle, if you wear makeup, we recommend cleansing twice to remove makeup completely. You'll notice your skin feeling soft and moisturized rather than dry immediately after use.
Ingredients:
Organic Aloe Leaf Juice, Organic Alcohol, Organic Olive Fruit Oil, Cocamidopropyl Betaine, Decyl Glucoside, Lauryl Glucoside, Emulsifying Wax, Glycerin, Organic Jojoba Seed Oil, MSM, Organic Rooibos Leaf Extract, DMAE Bitartrate, Hyaluronic Acid, Activated Charcoal, Tamanu Oil, Organic Green Tea Leaf Extract, Organic White Tea Leaf Extract, Usnea Extract, Organic White Willow Bark Extract, Provitamin B5, Vitamin C Ester, Vitamin E, Sunflower Seed Oil, Xanthan Gum, Ginger Root Oil, Tea Tree Leaf Oil, Lavender Flower Oil, Pink Grapefruit Peel Oil, Cedarwood Oil, Cistus Oil 
  Vegan    Paraben-Free    Phthalate-Free    Gluten-Free
•(1) Vitamin Rich Daily Moisturizer 4oz (Ultra Rich Moisturizing Creme Made with Retinyl) 
 This Ultra Rich Nourishing Creme brings all the best skin loving vitamins together for one big beneficial celebration on your face! Formulated to be dense and substantial in order to bring the benefits of Vitamin C Esters, Vitamin A, E and Pro-Vitamin B5, this a powerhouse creme softens, smooths and revives that youthful glow like no other. With skin loving Organic Aloe, hydrating Avocado Oil, antioxidant rich Rooibos, moisture boosting Organic Jojoba Oil and more, this vitamin-rich wonder creme is sure to become a customer favorite! Perfect for mature, dry and sensitive skin.
Ingredient Super Stars 
Vitamins E, C, B5, & A
Avocado Oil
Organic Rooibos Extracts
Organic Jojoba & Neem Oil
Directions for use:
Moisturize your face and neck with creme every morning and/or night, after you cleanse and tone. Always moisturize your face and neck in upward motions. Moisturizing is important for all skin types. In every step of skin care, always use circular, upward motions with a gentle touch on your face. Don't help gravity by tugging down on your skin, and remember that the skin on your face loves you, so you should love it.
 Directions for use as body creme: Apply to entire body as often as needed throughout the day to hydrate and nourish the skin. Pay special attention to hands, feet, elbows and any other area of your body that is prone to dry skin.
 Ingredients:
Organic Aloe Leaf Juice, Avocado Fruit Oil, Organic Alcohol, Organic Jojoba Seed Oil, Emulsifying Wax, Organic Palm Fruit Oil, Glycerin, Stearic Acid, Organic Rooibos Leaf Extract, Vitamin E, Sunflower Seed Oil, Vitamin A Ester, Vitamin C Ester, Provitamin B5, Organic Neem Seed Oil, Organic Rosemary Leaf Extract, Organic Sunflower Seed Oil, Allantoin, Xanthan Gum
•(1) Nourishing Under Eye Creme
Correct and prevent signs of aging with MintPear's Under Eye Nourishing Creme.
This vital step is crucial in preserving and promoting youth to the eye area. You'll feel the creme working right away, and clinical studies have shown signs of improvement within the first week of use. You can start with your eyes, but the rest of your face will be jealous, so just go ahead and use it wherever you have dry, thirsty nourish needing skin! That's right, though it was designed as an amazingly nourishing Under Eye Creme; it is really so much more! Gentle and supportive to the delicate skin around the eyes, it also caters to the face, neck, chest and beyond, bringing soothing, rejuvenating effects everywhere it is applied.
 With emollient rich Grape Seed Oil and Organic Jojoba Oil, Soothing Evening Primrose, nourishing Vitamin E and more, this superb multipurpose creme may have to be renamed - Under Everywhere Nourishing Creme!
Ingredient Super Stars
Grapeseed Oil
Organic Jojoba Oil
Evening Primrose Oil
Vitamin E Oil
Directions: 
Apply AM and PM. Eye cremes are designed to super moisturize the finest skin on your face. When you apply eye cremes, always use your ring finger or pinky to apply products around the delicate area of your eyes. Your pinky and ring finger are weak by nature and force you to apply gentle pressure.
(1) 'C Your Youth' - Vitamin C Serum:
Clinically Proven to:
•Visibly correct all signs of aging with one concentrated serum.
•Lighten, Tighten and Brighten.
•Vitamin C rejuvenates and protects and helps repair stressed skin. Vitamin C also improves the brightness, tone, and texture of dehydrated skin.
Reduce the effects of negative sun exposure
Powerful Anti-Aging Formulation - Proven to Reduce Appearance of Wrinkles & Fine Lines While Helping Boost Collagen, Fade Sun & Age Spots and Improved Skin Firming, Brightening, and Tone for a Smoother, Fresher, More Revitalized Youthful Complexion
THE DIFFERENCE In addition to its powerful anti-aging properties, customers have reported that this proprietary facial serum has helped to shrink pores, clear up acne, prevent breakouts, and minimize the appearance of acne scars - leaving skin proudly radiating a healthier appearance that glows.
Formulated with only the highest quality all natural ingredients at a high concentration, but it's surprisingly gentle too, and the perfect solution for even the most sensitive skin types.
Made in the USA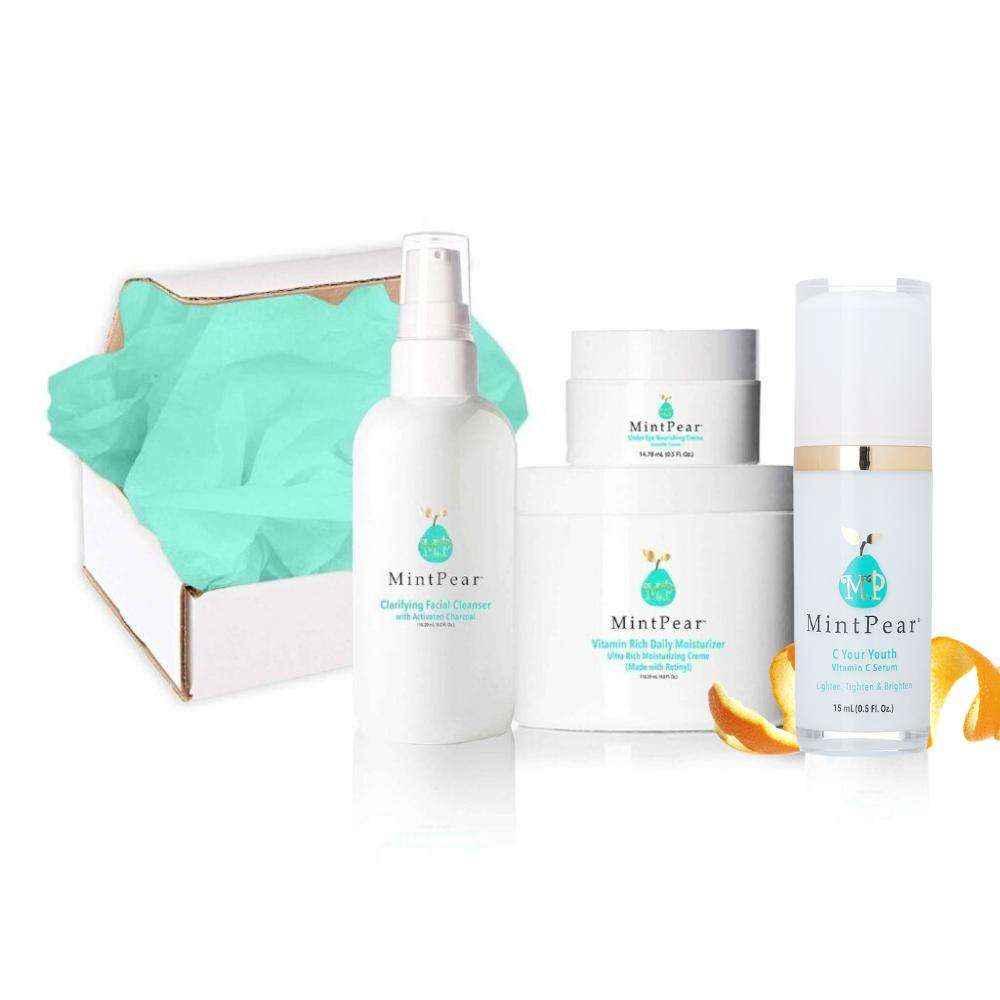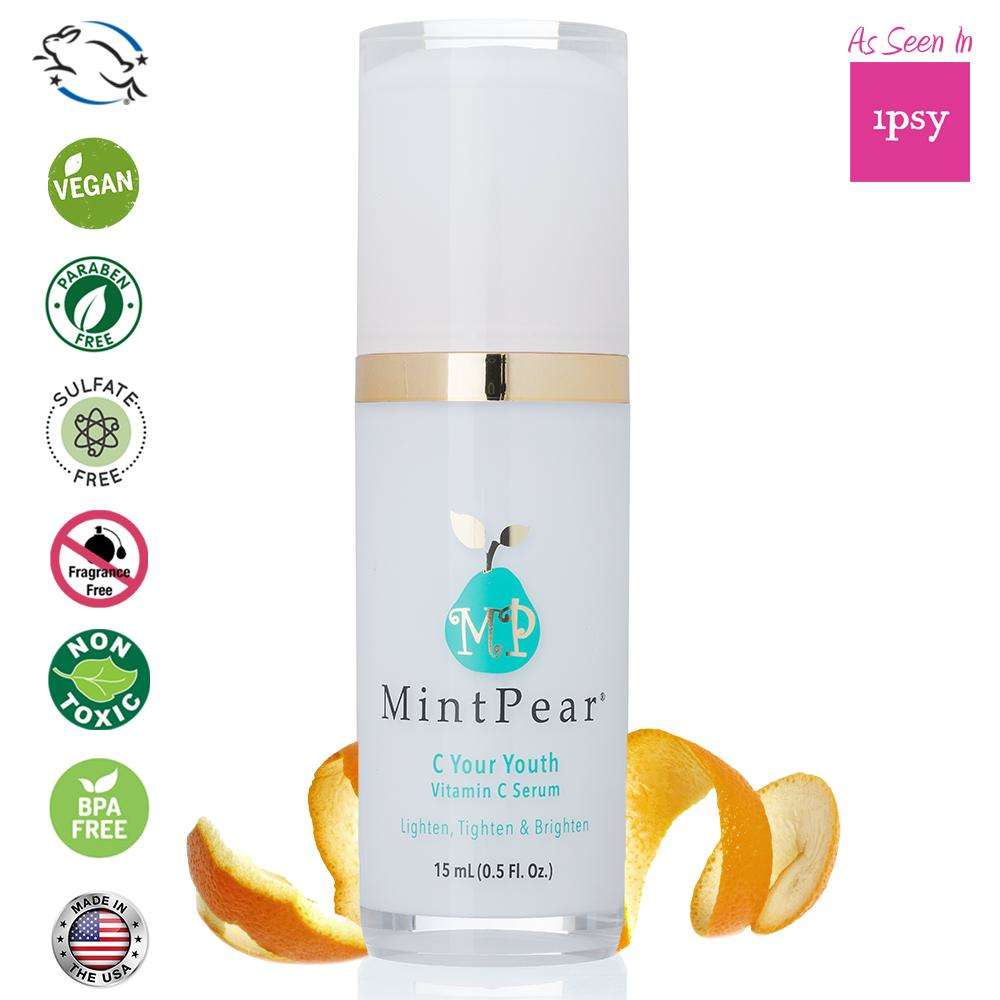 Customer Reviews
Good product
This is a very good product. Very good for sensitive skin. The only downside I have found is I cannot wear the moisturizer under my makeup because it's too greasy...but Its awesome at bedtime and I have seen a difference in my skin.
Mint Pear Daily Skin Routine + Vitamin C Routine
Works Fantastic!