Jojoba Creme Cleanser
Regular price
Sale price
$ 19.00
Unit price
per
Sale
Sold out
4oz

Nourishing, Soothing & Non-foaming

Jojoba Creme Cleanser has been known to:

Effortlessly Removes Makeup (even waterproof)
Combat Wrinkles, Acne, & Dry Skin
Cleanse and Unclog Pores
Reduce Blemishes and Inflammation
Nourish Skin

This new cleanser is great for all skin types; including sensitive skin, rosacea, eczema, acne, and aging skin. Its main ingredient (if you didn't already guess by its name) is Organic Jojoba Seed Oil. Jojoba Seed Oil is most similar to your skin's own oil (sebum) and works quickly to combat wrinkles, acne, and dry skin on your face, neck, and décolletage. Jojoba's antibacterial properties work to cleanse and unclog pores, reducing blemishes and inflammation.

High concentrations of Vitamin A and E deeply nourish and plump skin for a more radiant and glowing complexion. Rapidly dissolves makeup and whisks away impurities, while leaving skin soft and smooth—with no greasy residue. The jojoba plant is a hardy, perennial plant that grows in North America. Not only does it thrive in the harsh, desert climates that could kill most living things, but it also produces a nut with many healing properties. The nut of the jojoba plant can be made into an oil. Many people use Jojoba Oil as part of their skincare routine. And there are good reasons for that. There's plenty of evidence supporting the use of pure jojoba oil as a remedy for acne, dry skin, and countless other skin conditions.

MintPear's Jojoba Creme Cleanser takes the incredible benefits of Jojoba Oil and combines it with other amazing ingredients such as Organic Aloe Leaf Juice, Coconut Oil, Grapeseed Oil and more and made a creamy acne-fighting cleanser that is great for all skin types. After trying this MintPear cleanser, you'll never look back!

Other AH-MAZING Ingredients:

Organic Aloe Leaf Juice
Organic Coconut Oil
Grapeseed Oil
And much more!

Jojoba Creme Cleanser is a creamy consistency so it's best to apply it first without water and then add lukewarm water to emulsify it. Rinse and repeat for best results.

Using lukewarm water, wet your face and neck area. Massage a nickel-size of MintPear Cleanser to your hands or washcloth, and gently massage onto skin in an upward circular motion. Rinse thoroughly and pat dry with a soft, clean towel. Tone your skin with your MintPear Toner. Follow with your MintPear Moisturizer.

SHELF LIFE: 2 years from purchase date.

STORAGE: store in a cool place, away from direct sunlight.

Organic Aloe Leaf Juice, Organic Coconut Oil, Emulsifying Wax, Stearic Acid, Glycerin, Organic Jojoba Seed Oil, Grapeseed Oil, Avocado Fruit Oil, Witch Hazel Water, Vitamin E, Sunflower Seed Oil, Organic Neem Seed Oil, Organic Rosemary Leaf Extract, Organic Sunflower Seed Oil, Phenoxyethanol, Organic White Willow Bark Extract, Organic Alcohol, Xanthan Gum & Tetrasodium Glutamate Diacetate.
Customer Reviews
12/04/2020
Washma A.

United States
Possibly received old product
I initially tried this serum with Ipsy and saw results immediately after application with plumper and brighter skin. I loved it so much, I came to order a couple of these for myself and family members. However the results are not the same at all. The full-size product I received had a yellow color and some clumps whereas the original serum which was completely clear and smooth. The ipsy version was also more liquidy and glided on easier, whereas this one is stickier. It also smells a bit stale like old makeup while the original product had a fresh more clear fragrance (not sure how to describe smells lol) I wouldn't mind if I saw the results but I've been using it for over a week and nothing. Not the same results at all. I think i might have just gotten an older/expired version of the product which is sad because I just bought 2 of these serums and a whole set. I feel similarly about the charcoal wash I got. But I really love the rose hip serum. It's my favorite product because it smells so nice it's like aromatherapy.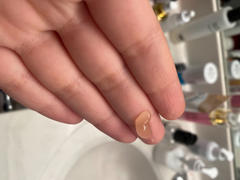 Hi Washma! So glad you left your review/feedback. You are correct, this is a different formula than what was featured in the ipsy bag (2017). The good news, it's now EVEN BETTER! Your product is definitely not expired, rest-assured you actually have the new improved formula. The improved formula is actually clinically-proven to work after 4-6 weeks, so be sure to continue the use. Also, you mentioned color, this is the naturally occurring shade of the active ingredients. We don't use any synthetic fragrances in any of our products, so the scent is the naturally occurring scent, as well. We fill in small batches and we do this monthly, so the products are always new and fresh. I hope this helps to clarify any doubts you may have. Always feel free to reach us at support@mintpear.com for help!
04/28/2021
Wendy F.

United States
Runny
Does not hold its creaminess. Turns to liquid. Messy jar
Hi Wendy, simply store in the refrigerator during warmer months to keep consistency. Since we don't use any synthetic preservatives, it's natural for natural oils and other natural ingredients to separate. Hope this is helpful.
04/19/2021
Donna C.

United States
CALM toner
My fave !!!!! Can't be without it
Hi Donna! So happy to hear. We love you !
03/25/2021
Maureen G.

United States
Changed my skin
In just a few weeks of using the collagen serum, I saw a noticeable difference in my skin. My skin looks smoother and brighter!
03/14/2021
Jenna T.

United States
Love it!
Best serum I've ever used. It's only been a week but my face is already glowing and my fine lines have started to get softer and diminish. I will absolutely buy again.