Coffee Eye Serum
Regular price
Sale price
$ 19.00
Unit price
per
Sale
Sold out
30ml

NATURE'S COLLAGEN BOOSTER—100% Pure & Natural

Rich in antioxidants, flavonoids, and vitamin E, MintPear Coffee Eye Serum boosts your natural collagen and elastin for a brighter, younger-looking eye area.

MintPear's Coffee Eye Serum Has Been Known To:

Increase Skins Natural Production of Collagen and Elastin
Correct Sun Damage
Tighten Skin Around Eyes
Treats Hyperpigmentation
Moisturize Skin
Smoothes Wrinkles
Soothes Puffy Eyes

There is NO better way to wake up those tired eyes than with MintPear's Coffee Eye Serum. This energizing serum de-puffs boosts circulation and brightens dark circles around the eye area. You'll have everyone fooled into thinking you've just had the best sleep of your life with this amazing serum. The main ingredient in this serum is Coffee Bean Oil, which is full of caffeine and antioxidants that decreases inflammation, puffy eyes, and acne. MintPear's Coffee Eye Serum works to decrease wrinkles and ease sore muscles. It even works to treat cellulite and signs of aging.

The caffeine found in MintPear's Coffee Eye Serum calms the skin and tissue in puffy areas, making skin look brighter and refreshed. As a result of the calming effect of the ingredients found in this eye serum, you will see acne become less inflamed as well leading to an overall clearer complexion.

Coffee Bean Oil has been known to fight the signs of aging from its antioxidant properties, restoring a youthful complexion. It works to lighten and tighten the skin around the eyes and promote elastin and collagen production in the skin for a firmer and more youthful appearance.

Give your skin the morning wakeup you've been looking for with MintPear's Coffee Eye Serum!

After cleansing with your MintPear Cleanser, pat skin dry, and apply a few drops around eyes gently with your ring finger as this is your most delicate skin. Apply in the morning and evening for the best results. Follow with your MintPear Moisturizer to reduce under-eye puffiness, and combat fine lines and wrinkles.

SHELF LIFE: 1 year from purchase date.

STORAGE: store in a cool place, away from direct sunlight.

Pure Organic Coffee Bean Oil, Pomegranate Seed Oil, Rosehip Seed Oil, Argan Oil, Green Coffee Bean Oil & Watercress Seed Oil.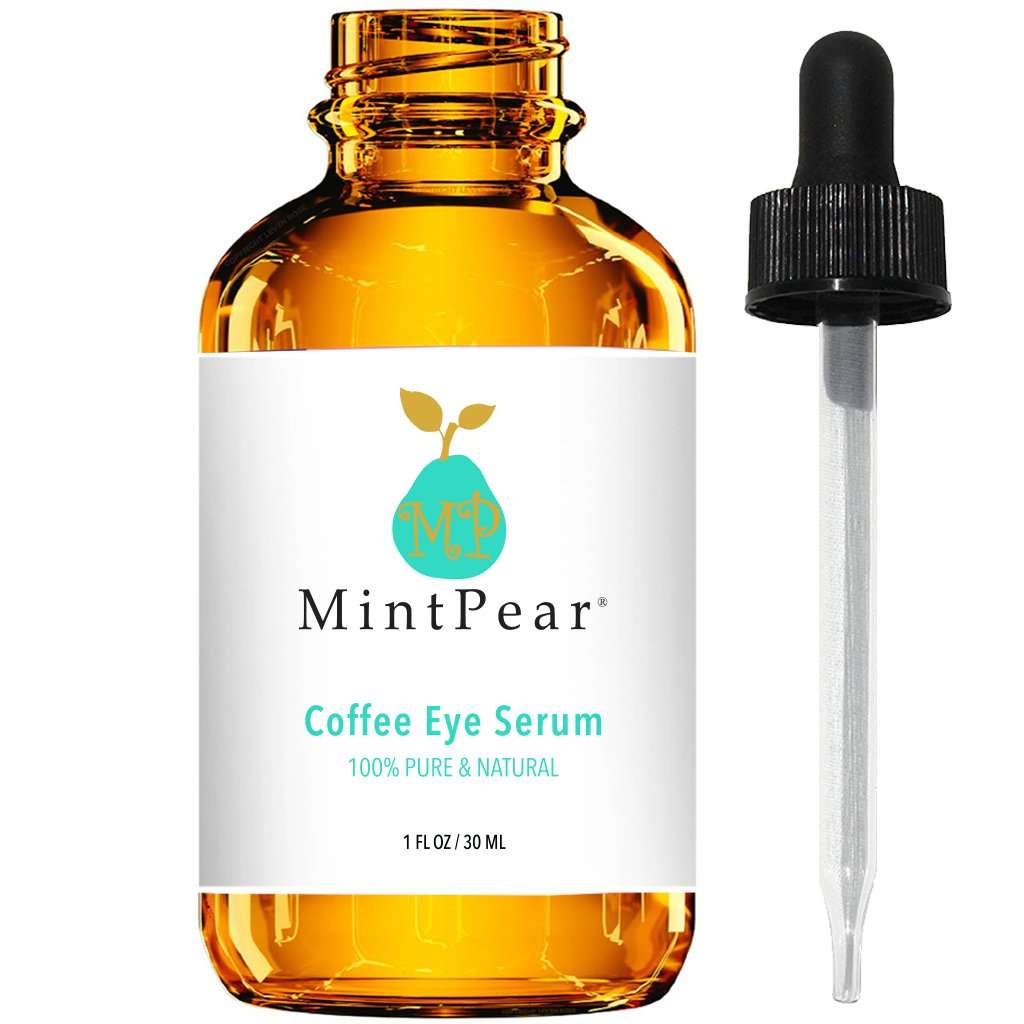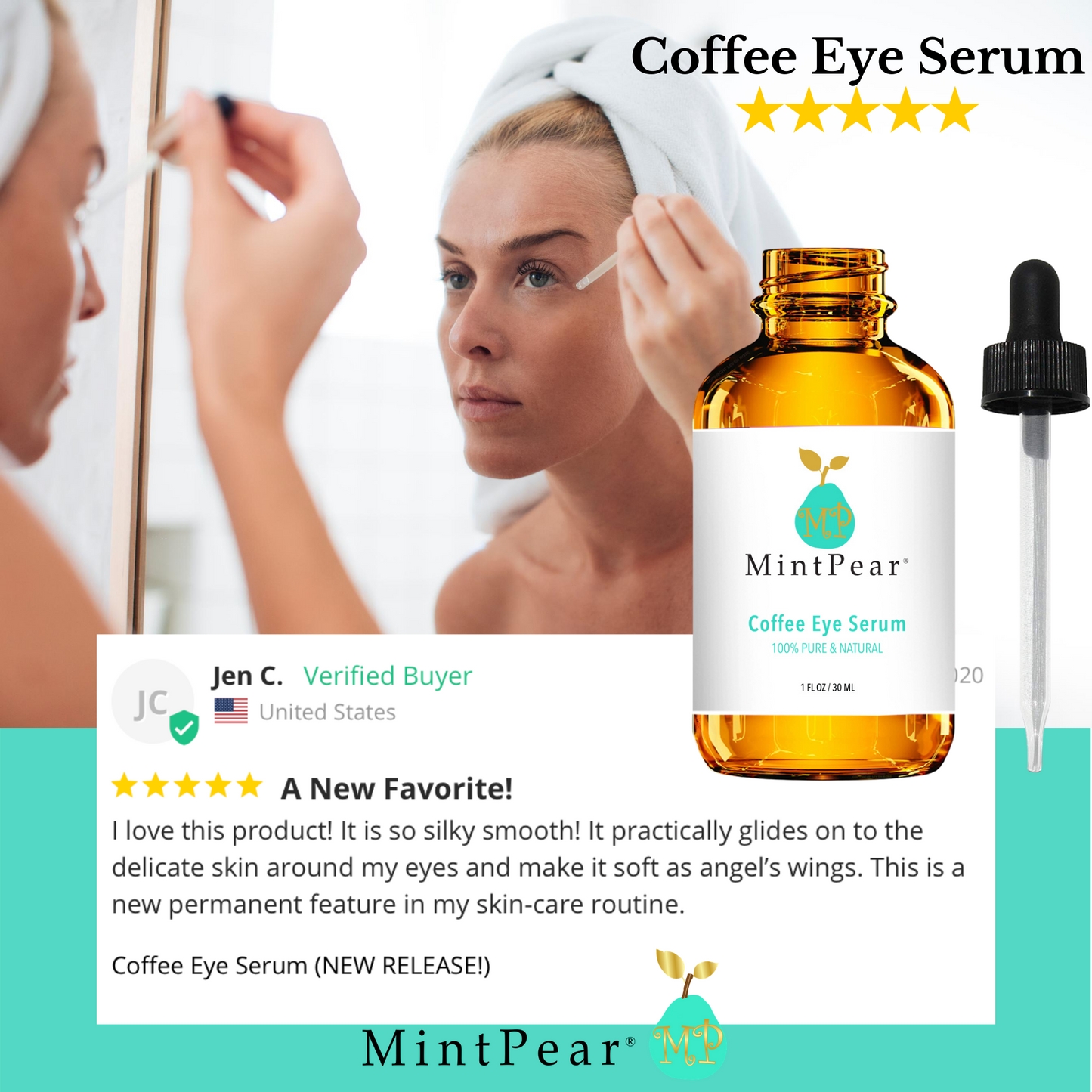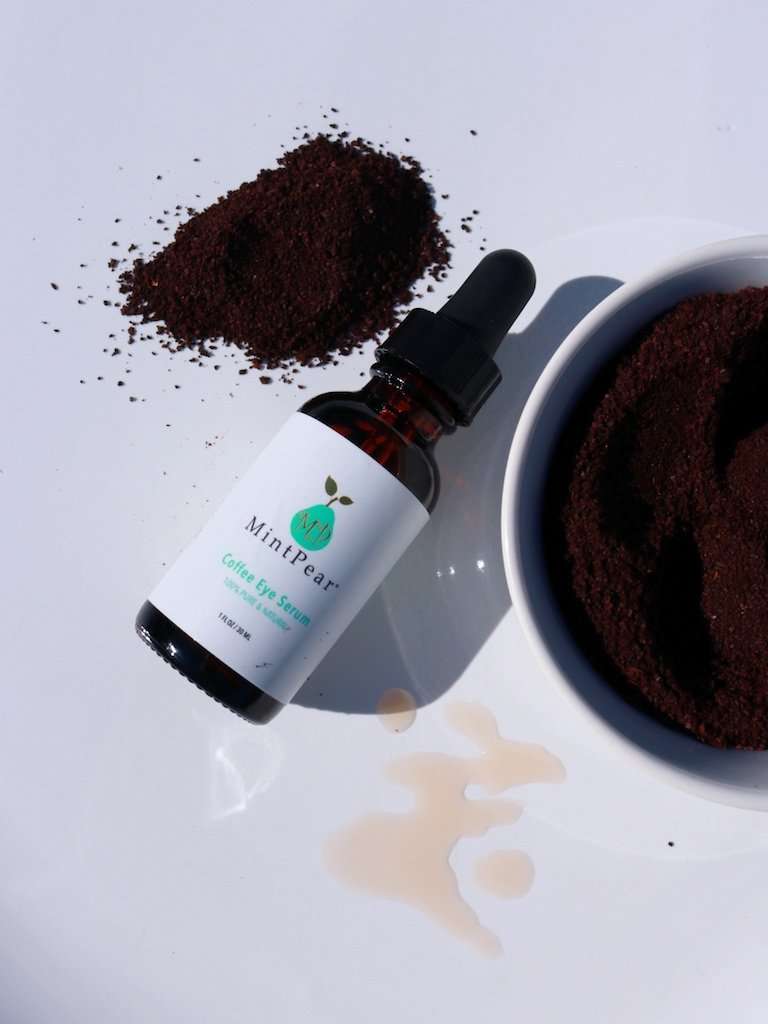 Customer Reviews
08/31/2023
Shari B.

United States
Unfortunately you where out of the coffee eye serum, and subbed a night serum. Please let me know when you have it in stock again
07/01/2023
Terra S.

United States
C serum and rose serum
You were out of the coffee serum so I was sent these 2 products as replacements.It was extremely nice to get them.I am enjoying both a lot.I will however reorder the coffee serum as soon as it i s in stock.It is still my very favorite! Thanks for the amazing service❤️
06/09/2023
Linda B.

United States
Coffee eye serum
I don't know. I ordered it but didn't receive it. When I notified company they said they were out of stock and substituted another product Really wanted the coffee eye serum
06/08/2021
Caitlin M.

United States
Great for puffiness
This serum works great for puffiness and for dark circles. It also tightens the skin too.
04/05/2021
Sharon B.

United States
Too Soon To Tell - HOPEFULLY
Haven't had it long enough to see any results, if there are going to be any.