Trio Makeup Brush Set - The Ultimate Face Essential Set
Regular price
Sale price
$ 49.00
Unit price
per
Sale
Sold out
Must Have Face Essentials Trio

MintPear Trio Set Includes:

The Duo-Fiber Stippling - M50 features blended fibers with an airy flat brush head. This brush is great for blending powder or liquid products onto the skin for a streak-free finish. The perfect STIPPLING BRUSH!

Wow Feature: large Flat Top with Fiber Blend.
Function: creates a flawless application onto the skin for an airbrushed effect.
Recommended Use: can be used with powder, liquid or cream products.
The Large Powder/Blush Brush - M10 features a large fluffy, soft slightly rounded edge. Great for seamlessly applying blush to the apples of the cheek and also works well to apply powder for medium coverage or setting foundation with translucent powder.

Wow Feature: very soft and slightly beveled.
Function: precise placement of blush.
Recommended Use: use for powder application.
The Precision Highlighter - M35 features fluffy fibers with a small tapered brush head. Use this brush with highlighting powder on the cheekbones, forehead, nose and inner corners of the eye.

Wow Feature: small and tapered with a precise tip.
Function: effortless highlighting perfection.
Recommended Use: apply highlighting shades onto the upper contours of the face. A diffused finish gives skin a natural glow.

The Ultimate Makeup Brush Set. These 3 brushes together are everything you'll need to create a professional makeup application. For any level of makeup artist. Easily perfect your makeup game with these premium quality brushes. Be your own beauty hero no matter where you are!

The secret to expert makeup application is expert makeup brushes. MintPear's most loved Makeup Brushes create the ultimate set - a full wardrobe of face brushes that handles all your application needs beautifully and efficiently! These ultra-soft bristles are made to help effortlessly pick up and distribute powder and cream products for a finish you'll love. If you are looking to create a flawless base, these cruelty-free synthetic fibers are uniquely designed to maneuver around the face and using minimum product.

Create stunning looks that last all day! This cruelty-free brush set is made with 100% animal hair-free, synthetic bristles. Master your makeup skills with these top-selling Brushes. You will save money using these premium brushes that eliminate wasting makeup. The precision and application is precise and flawless. You'll know quality when you try it, that's why we guarantee our product.

These are the brushes you will want by your side for whatever the day (or night) may bring! Reveal your most beautiful you with 3 unstoppable brushes for full-face flawless! MintPear's best-selling makeup brushes will save time on your makeup routine. MintPear saves the day! Great brushes do the work for you!

Why You'll Love MintPear Brushes:

Copper ferrule
Premium quality cruelty-free bristles
Hardwood handle
Ultra-soft bristles allow you to save product and create a beautiful seamless application

You'll never go back to lower quality brushes!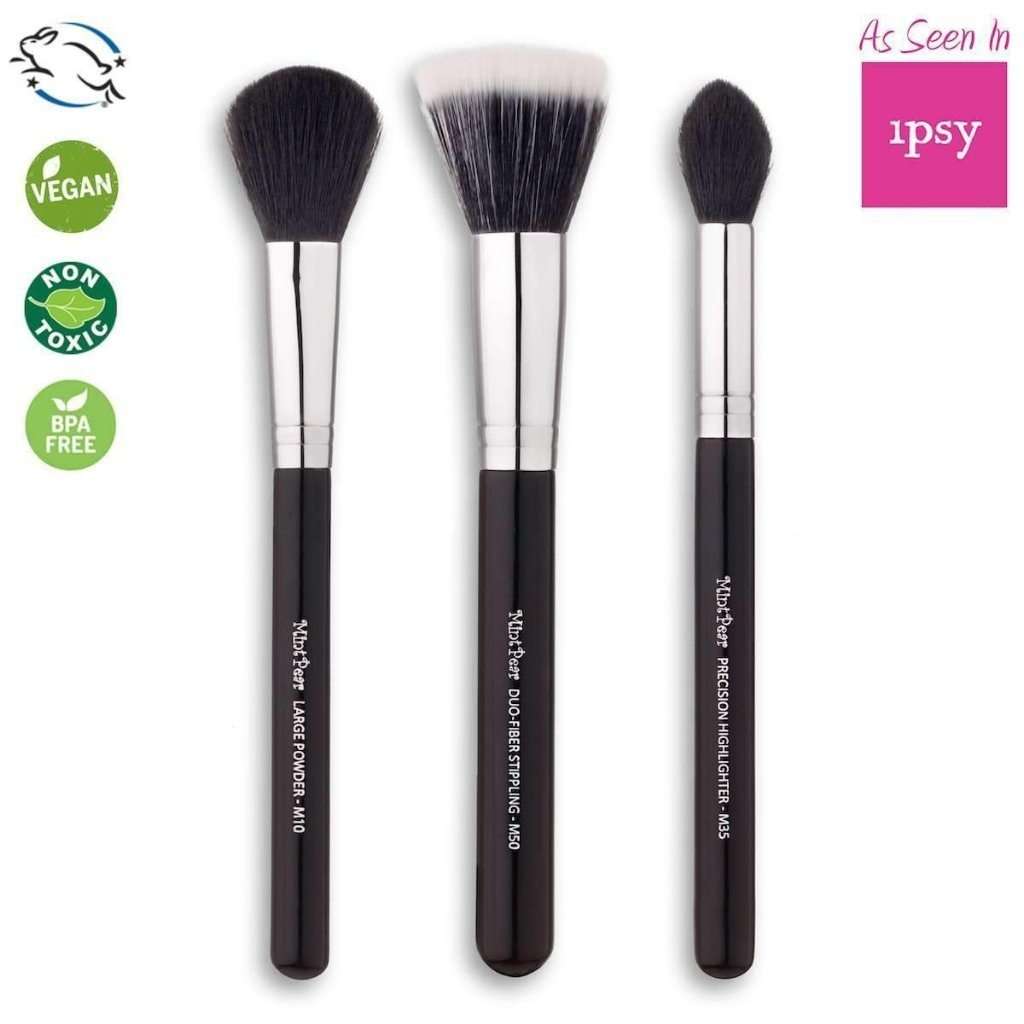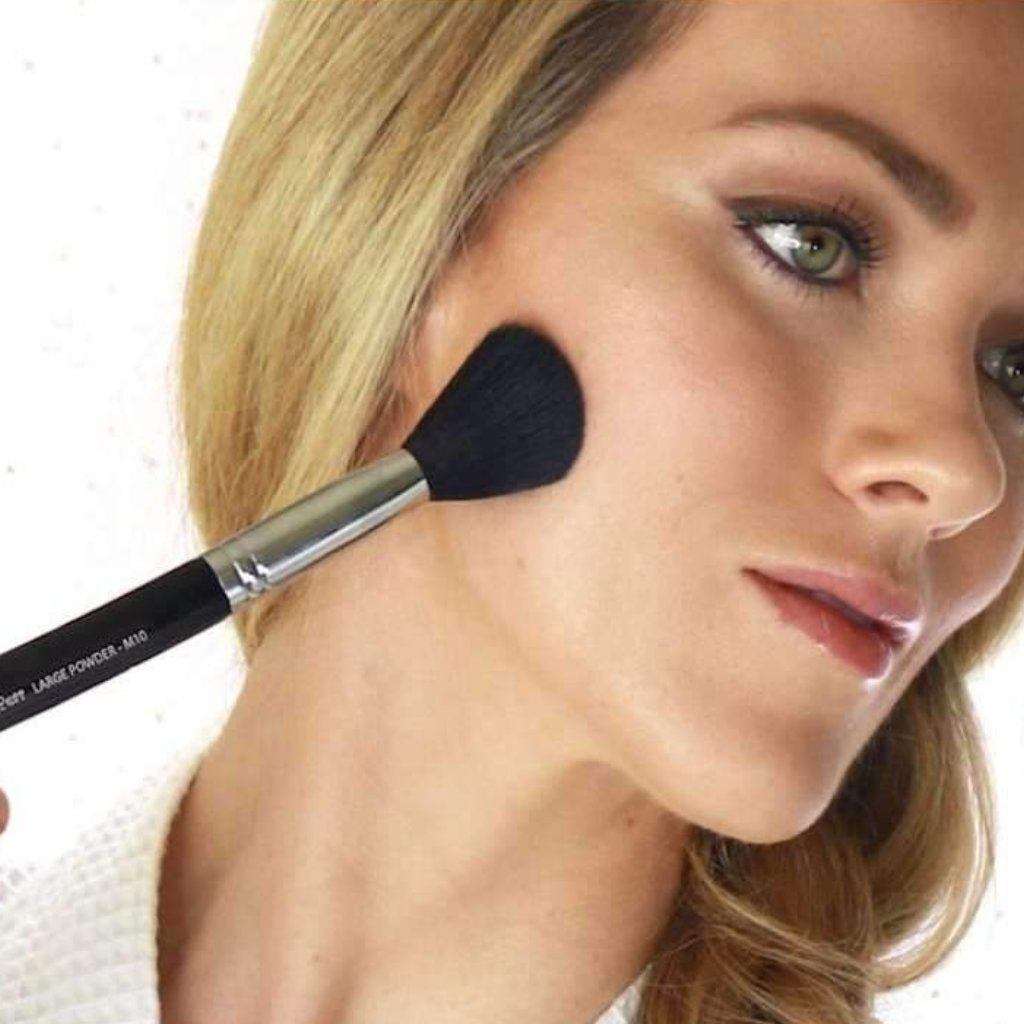 Customer Reviews
10/18/2021
Jessica S.

United States
Love the brushes except the wood handle on one of the brush set came off.
06/12/2020
Delia C.

United States
Best brushes
Best brushes on the market.
AWESOME BRUSHES!!!
They are so soft and incredible to work with! The best brush set ever!!!
I love these!
These brushes are so incredible! I love how they don't waste my product and are easy to clean. These are very nice and I think they will last a long time, they are really nice wood and the metal part is not cheap like many other brushes I've bought from other brands.
I am obsessed with these brushes
I have tried the Kabuki brush from this brand and it's one of my favorite brushes, so I wanted to try more from MintPear. These three brushes are so nice and are really high quality. I was actually surprised because there weren't many reviews on their website. I'm really happy I bought them and will definitely be buying the full-size set once it's in stock.