Vitamin Rich Daily Moisturizer (Made with Retinyl)
Regular price
Sale price
$ 39.00
Unit price
per
Sale
Sold out
4oz

Vitamin Rich Daily Moisturizer 4oz (Ultra Rich Moisturizing Creme Made with Retinyl)

MintPear's Vitamin Rich Daily Moisturizer penetrates deep into the skin's surface layers. Our proprietary blend of Vitamin E, C, B5, & A + Retinyl complex hydrates skin for a bounty of benefits. You'll see visible improvements in fine lines & wrinkles, smoothness, brightness, firming, dark spots, and pores. MintPear's Moisturizer delivers all of these benefits with virtually no irritation. This fragrance, dye-free, vegan-friendly moisturizer absorbs quickly and goes deep into your skin's surface layers so you wake up every morning to younger-looking, radiant skin. Use this moisturizer daily and see true skin transformation. This daily moisturizer is proven to instantly enhance skin's moisture & radiance as it works to improve suppleness & visible tone & texture.

This Ultra Rich Nourishing Creme brings all the best skin-loving vitamins together for one big beneficial celebration on your face! Formulated to be dense and substantial in order to bring the benefits of Vitamin C, Vitamin A, E, and Pro-Vitamin B5, this powerhouse creme softens, smooths and revives that youthful glow like no other. With skin-loving Organic Aloe, hydrating Avocado Oil, antioxidant-rich Rooibos, moisture-boosting Organic Jojoba Oil and more, our Vitamin Rich wonder creme is sure to become your favorite moisturizer once you've tried it! Perfect for mature, dry or sensitive skin.

INGREDIENT SUPERSTARS:

Vitamins E, C, B5, & A
Avocado Oil
Organic Rooibos Extracts
Organic Jojoba & Neem Oil

Here's how to incorporate the MintPear's Vitamin Rich Daily Moisturizer into your everyday makeup routine:

Moisturize your face and neck with creme every morning and/or night, after you cleanse and tone. Always moisturize your face and neck in upward motions (in every step of skincare, always use circular, upward motions with a gentle touch on your face. Don't help gravity by tugging down on your skin, and remember that the skin on your face loves you, so you should love it too).

Directions for use as body creme: apply to entire body as often as needed throughout the day to hydrate and nourish the skin. Pay special attention to hands, feet, elbows and any other area of your body that is prone to dry skin.

What's normal: slight tingling and redness may occur from active ingredients, we recommend to use SPF with this product. Naturally Occurring Odors, you can be 100% confident that MintPear doesn't add any fragrance or essential oils (known to cause hormonal imbalance) to masque ingredients.

**Due to the number of natural ingredients and because there are not any synthetic preservatives, the Vitamin Rich Moisturizer does get super liquid in the warmer months. We recommend placing the Vitamin Rich Moisturizer and Under Eye Nourishing Creme in the refrigerator for 12 hours before use, to help restore the product to the normal consistency, and it's also a soothing added benefit when chilled. It is also acceptable to store in the refrigerator if you desire.

Organic Aloe Leaf Juice, Avocado Fruit Oil, Organic Alcohol, Organic Jojoba Seed Oil, Emulsifying Wax, Organic Palm Fruit Oil, Glycerin, Stearic Acid, Organic Rooibos Leaf Extract, Vitamin E, Sunflower Seed Oil, Vitamin A Ester, Vitamin C Ester, Provitamin B5, Organic Neem Seed Oil, Organic Rosemary Leaf Extract, Organic Sunflower Seed Oil, Allantoin, Xanthan Gum.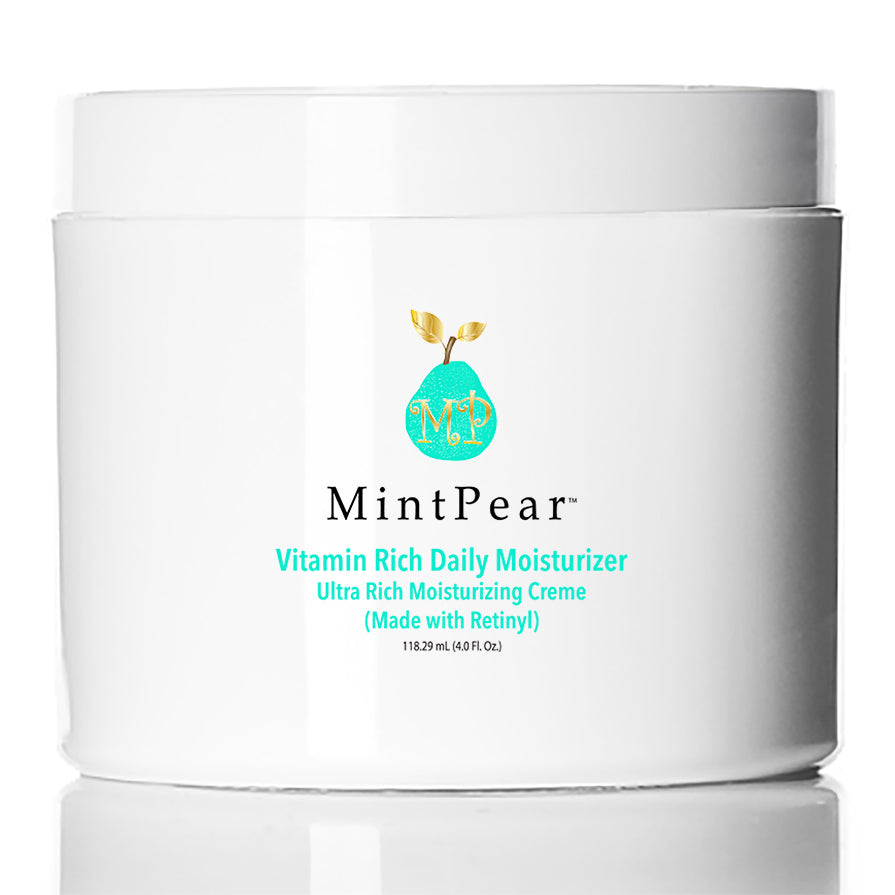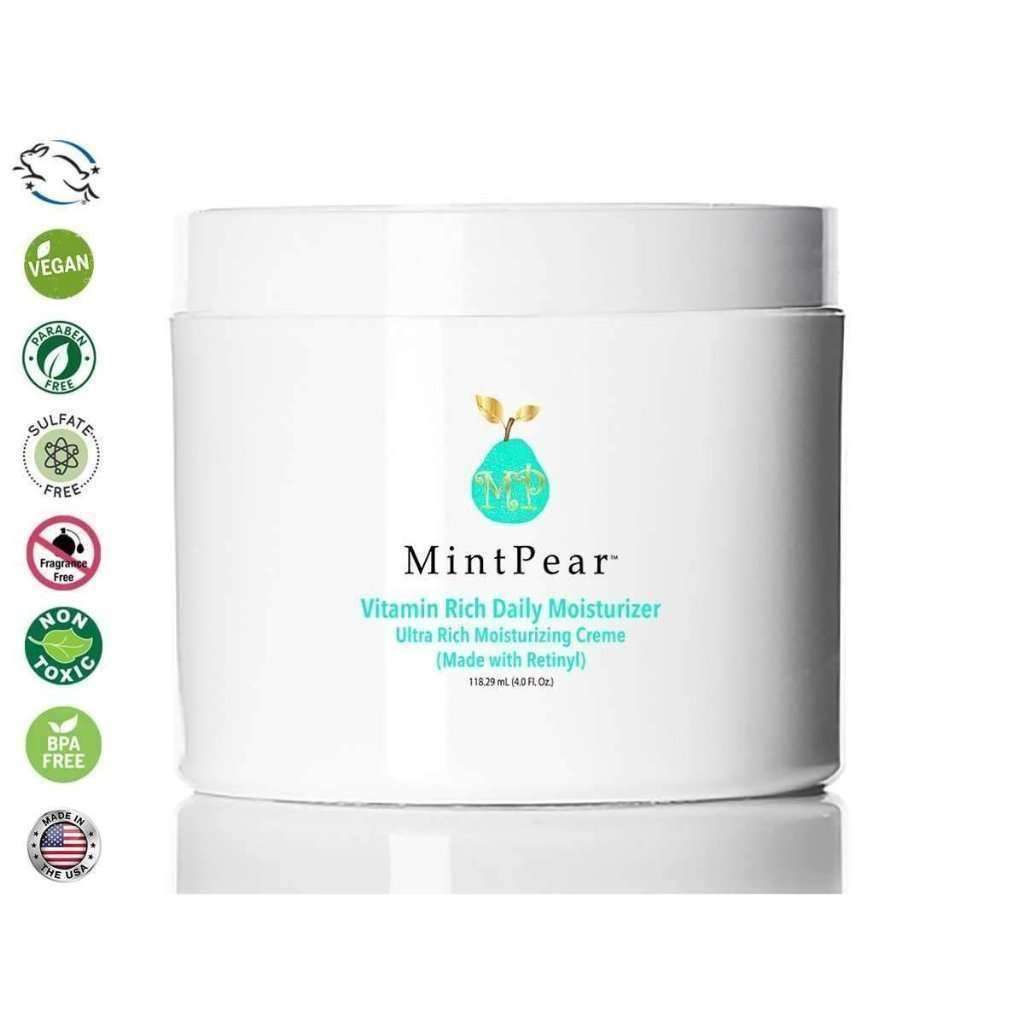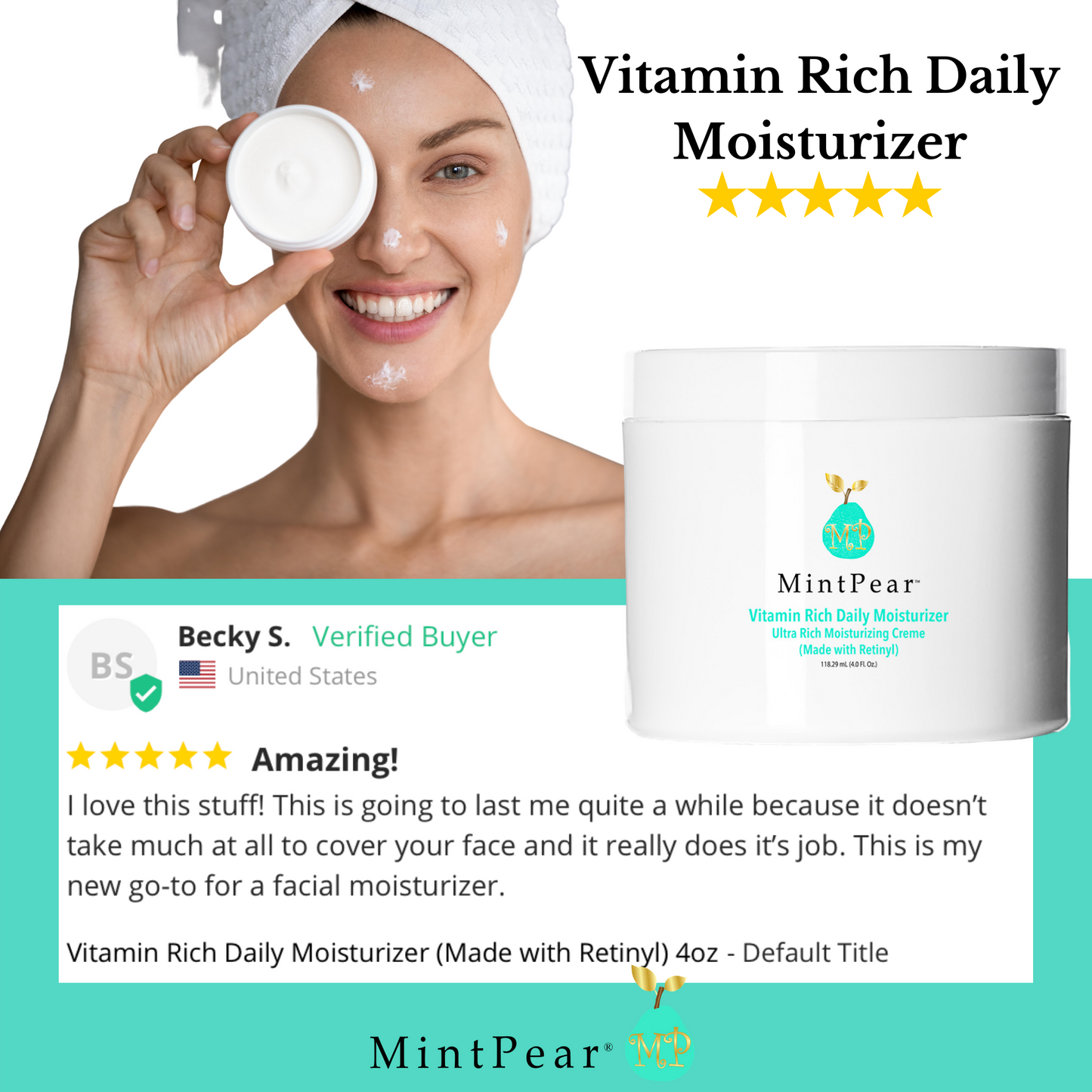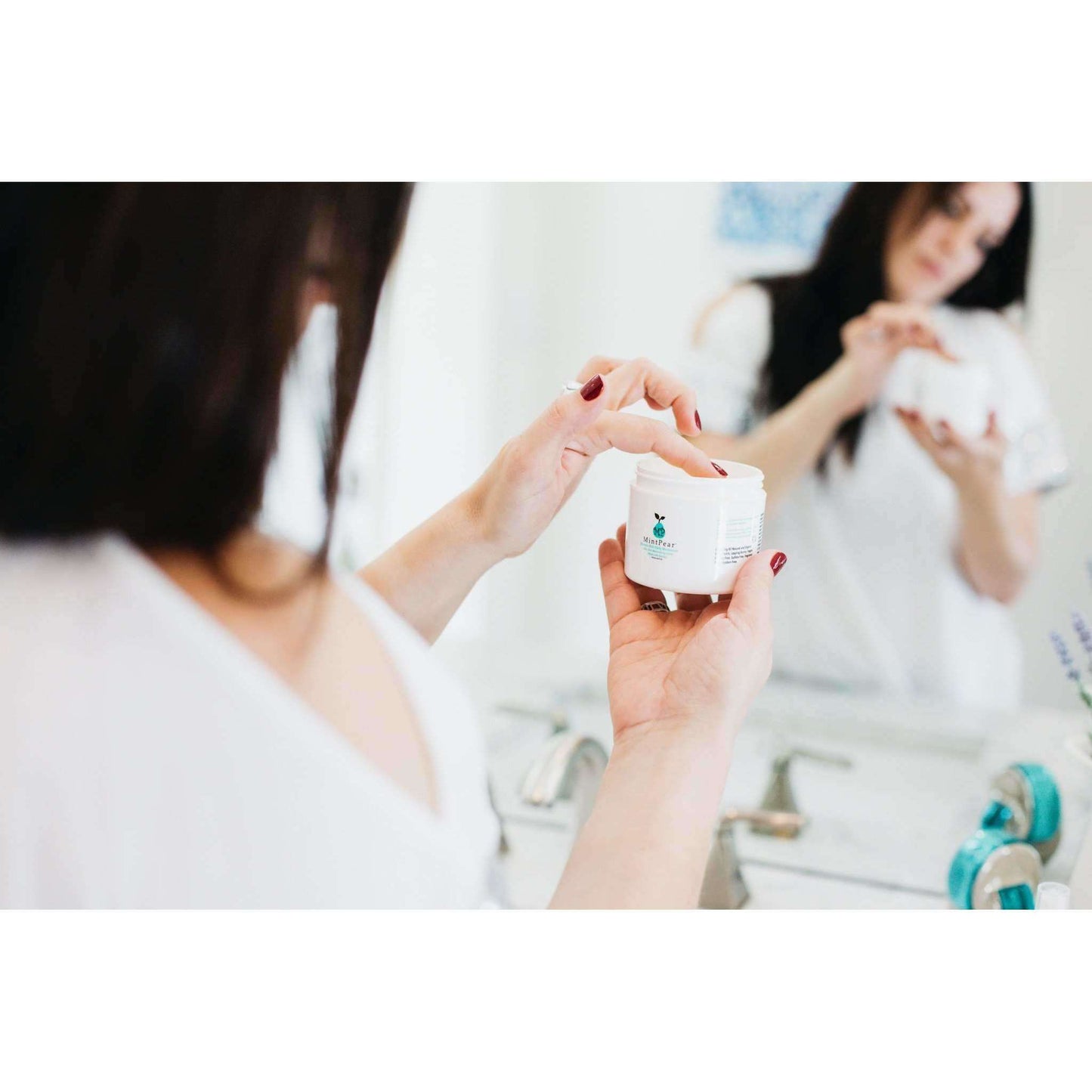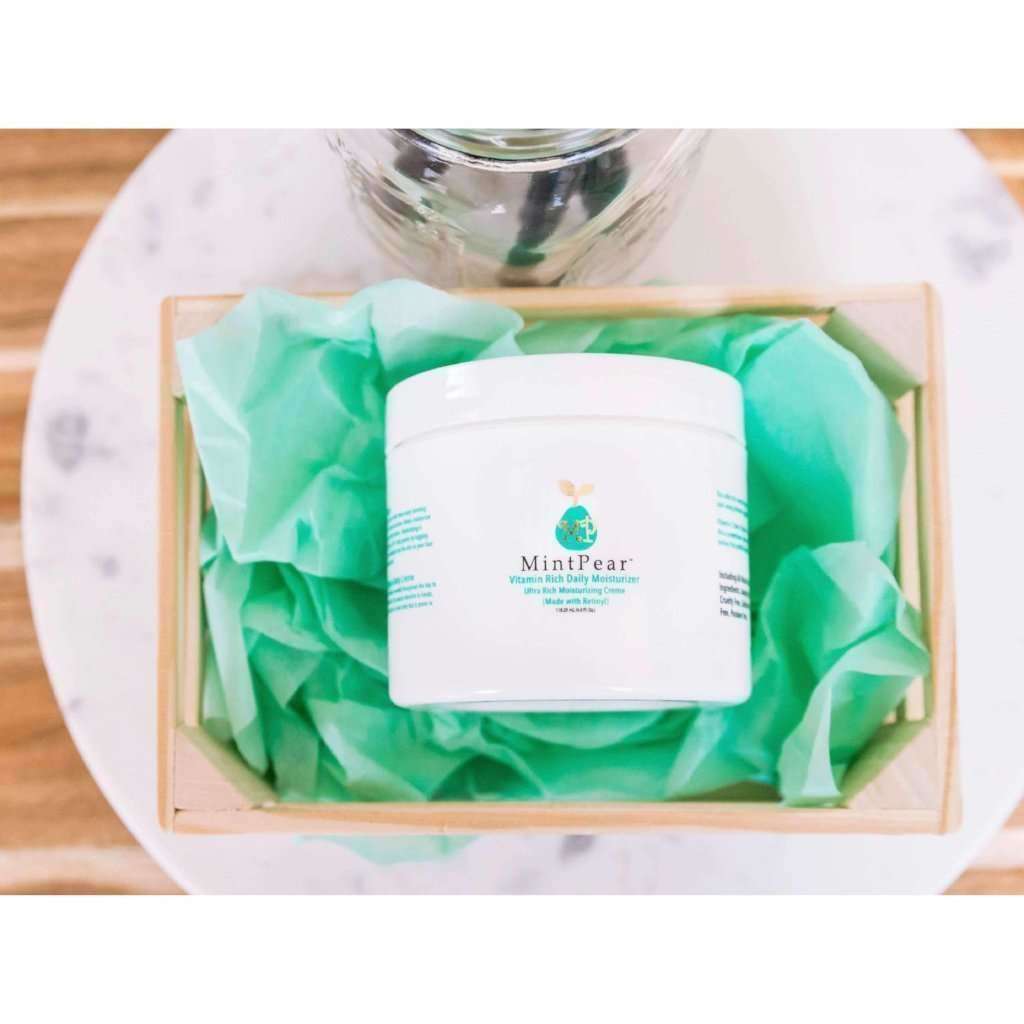 Customer Reviews
05/01/2021
Betsy C.

United States
Love this moisturizer
So far I am loving this moisturizer!!! It is affordable and not greasy, A little bit goes a long way. I have sensitive, and dry skin and my face is soft now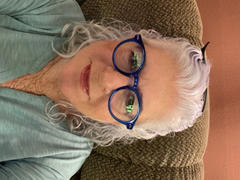 Hi Betsy! Your photo is lovely. ☺️ Thank you so much for taking the time to share with us. We are so happy to have you in our MintPear family!
02/25/2021
Becky S.

United States
04/28/2020
moneca m.

United States
01/31/2023
yvonne g.

United States
Amazing moisturizer
Been using it for years I love it makes my skin glow… Rosehip oil, and this moisturizer. It's the best combo for dry skin.
05/13/2022
Brenda B.

United States
Love it ❤️
It's smooth and refreshing going on, disappears into the skin leaving it soft and smooth.