Rosehip Oil
Regular price
Sale price
$ 16.00
Unit price
per
Sale
Sold out
30ml

100% Pure, Organic, Unrefined, Cold-Pressed Rosehip Seed Oil

FAQ: "The difference between The Rosehip Night Serum & The Rosehip Oil: The Rosehip Night Serum is a combination of multiple, luxurious Ingredients as where the Rosehip Oil is simply 100% Rosehip Oil.

Rosehip Seed Oil Has Been Known To:

Also Known As: "Nature's Retin A". Rosehip is a great source of Vitamin A
Powerful Healing Properties, Helps Repair & Rejuvenate Skin
Stimulates Collagen & Elastin to Improve the Appearance of Scars and Aging Skin
Reduces Age Spots, Hyperpigmentation, Dark Spots, Scars, Fine Lines & Wrinkles
Concentrated Overnight Intensive Moisturizing Treatment
Read more about the Benefits of using Rosehip Oil during pregnancy here, always check with your doctor prior to use

It's derived from the rosa canina rose bush, which is grown mostly in Chile. Unlike rose oil, which is extracted from rose petals, rosehip oil is pressed from the fruit and seeds of the rose plant. Prized since ancient times for its valuable healing benefits, rosehip oil is loaded with skin-nourishing vitamins and essential fatty acids. It also contains phenols that have been shown to have antiviral, antibacterial, and antifungal properties.

Rosehip oil is often used as a carrier oil for essential oils which are too intense to put on your skin directly. Rosehip oil contains a wealth of essential fatty acids, including linoleic and linolenic acid. Fatty acids help to keep cell walls strong so that they don't lose water. The many fatty acids in rosehip oil make it an excellent option for hydrating dry, itchy skin. The skin also easily absorbs the oil, allowing its antioxidants to travel deep into the skin's layers. MintPear's Rosehip Seed Oil contains proven anti-ager, Vitamin A, which helps in evening out skin tone and fading dark spots while reducing the appearance of wrinkles. It also helps smooth out a dry, rough complexion.

Rosehip oil has a long history as a therapeutic remedy and beauty product. It's full of vitamins, antioxidants, and essential fatty acids that are all valued for their ability to nourish the skin. Scientific studies showing rosehip oil's promise make it an intriguing option for anyone looking to reduce the visible signs of aging, clear up scarring, or otherwise improve their skincare routine.

Add to daily moisturizer for added healing. Message 2-3 drops on clean skin before bedtime to repair and rejuvenate. Apply a few drops to spots, scars and wrinkles at least once a day.

This oil pairs very well with the C Your Youth Vitamin C Serum.

SHELF LIFE: 6 months from purchase date.

STORAGE: store in a cool place, away from direct sunlight.

WARNING: for external use only. Keep away from flames and high heat. Keep out of reach of children.

100% Pure, Organic, Unrefined, Cold-Pressed Rosehip Seed Oil (Rosa Canina).

Leaping Bunny Certified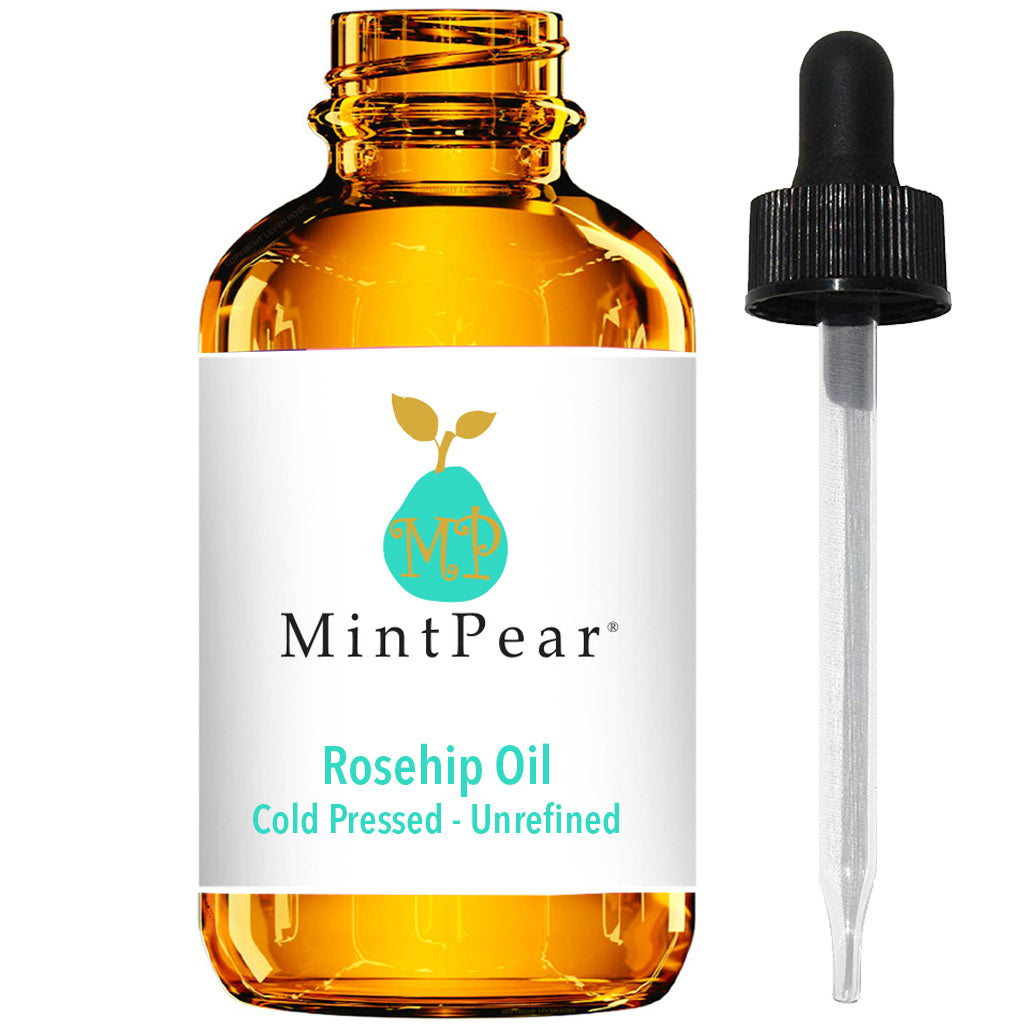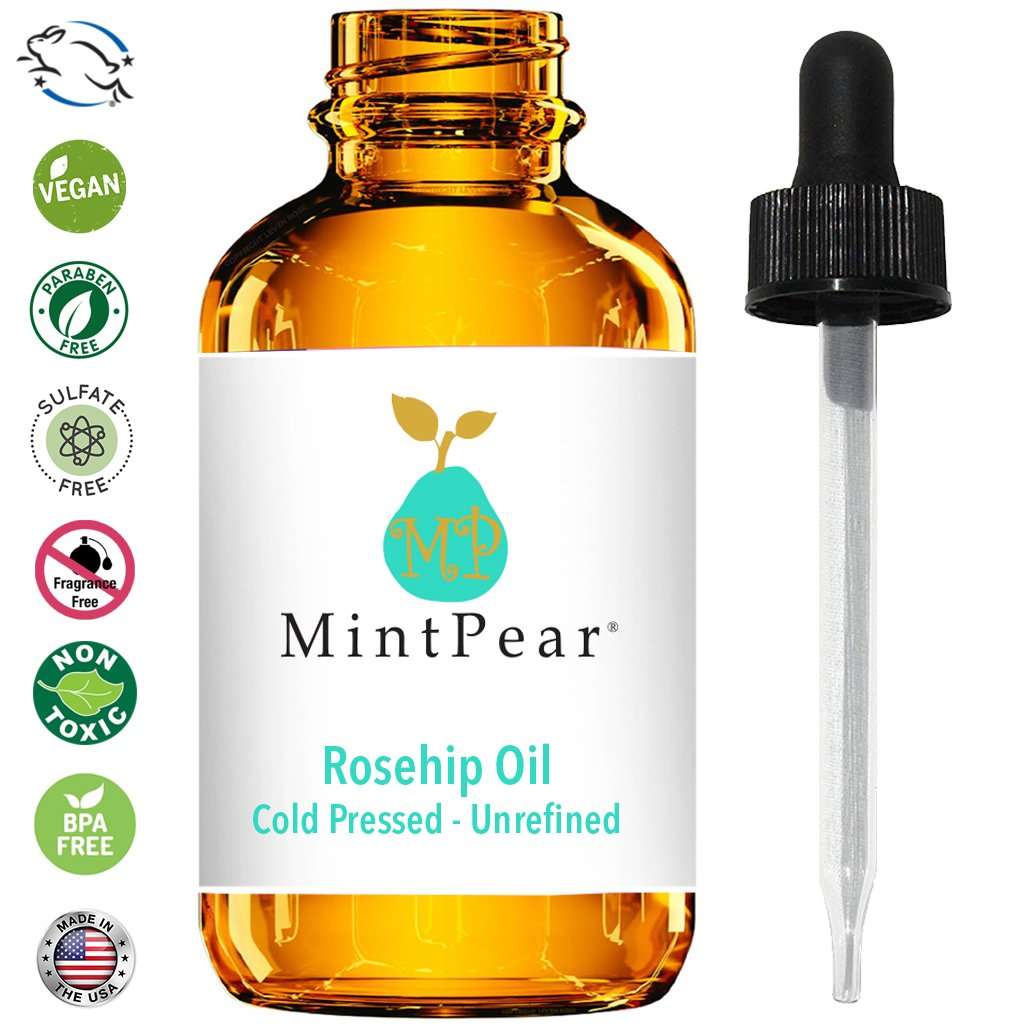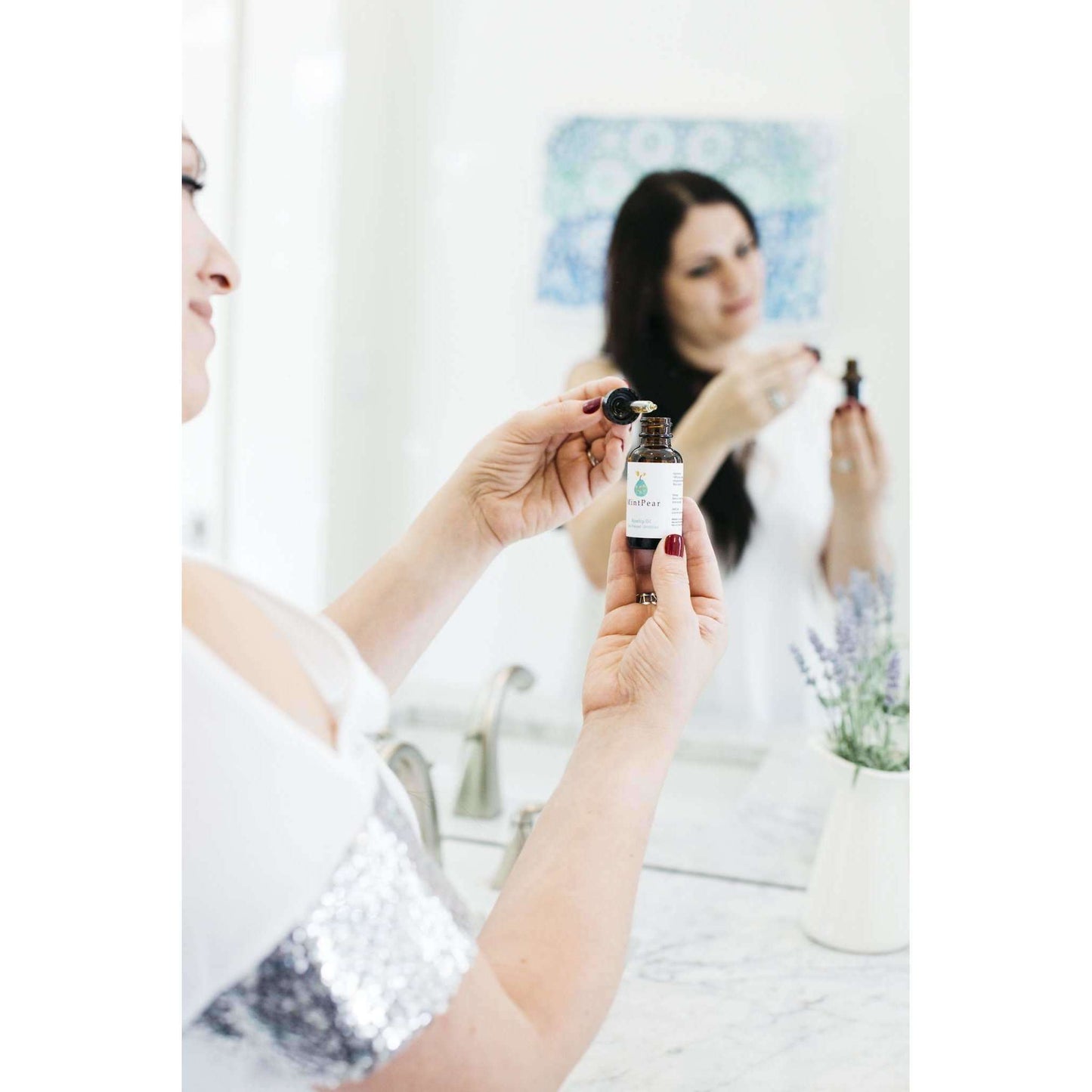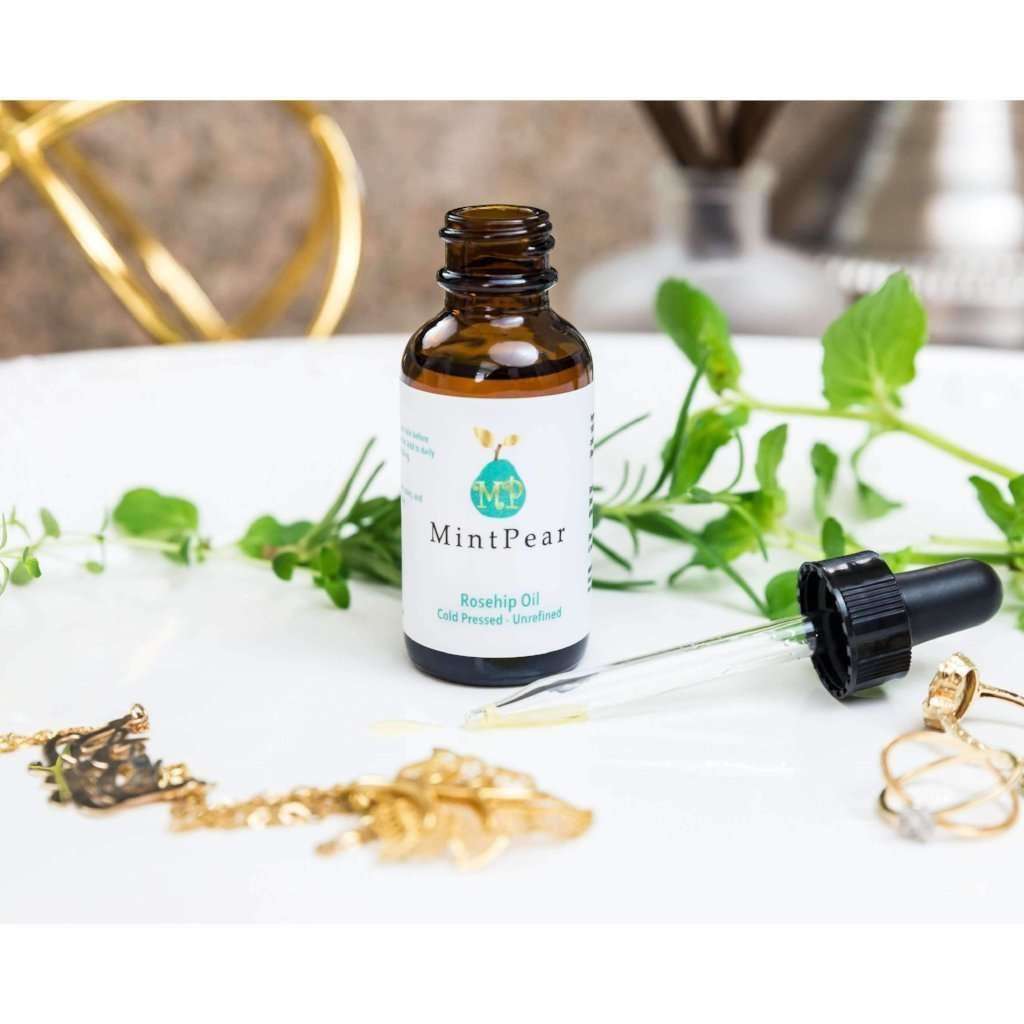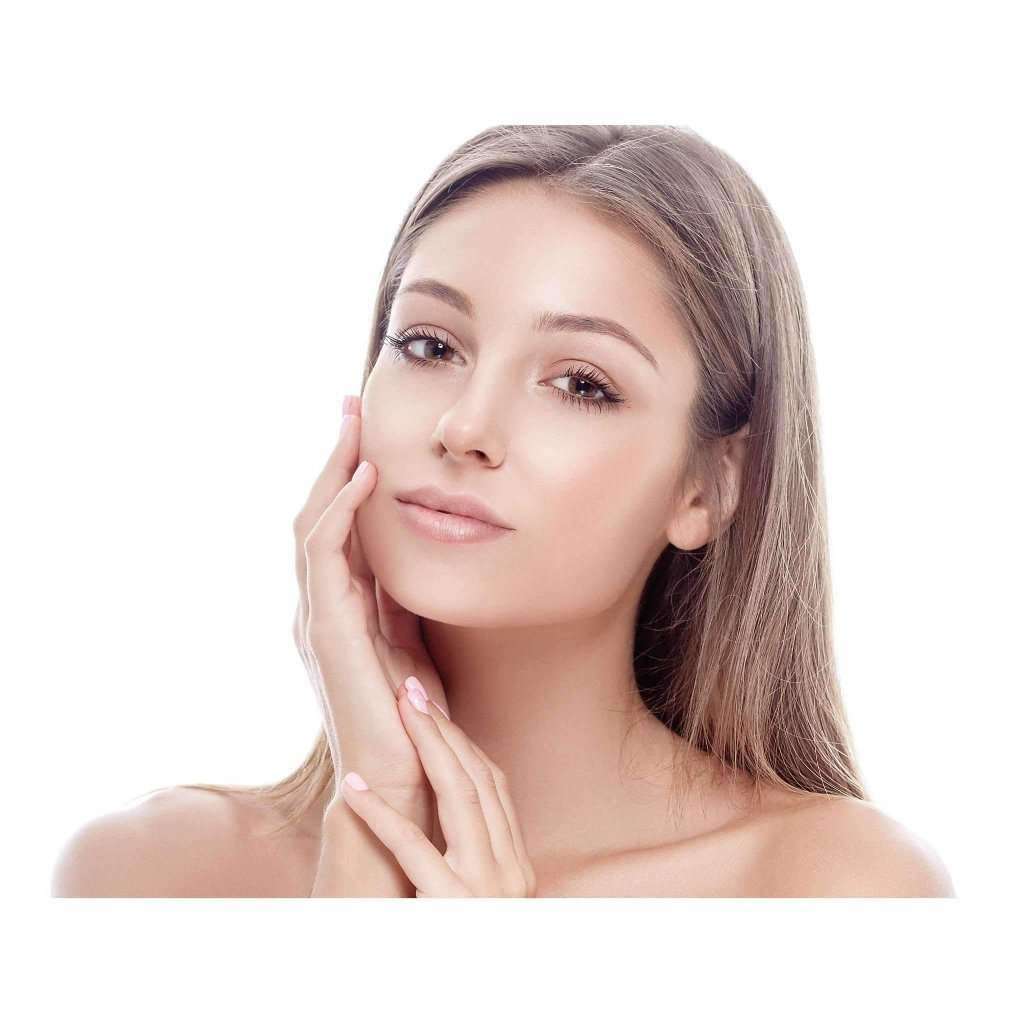 Customer Reviews
07/22/2020
Jeannette L.

United States
Believe the hype!
Love it so far! I can already feel a difference in how my skin looks and feels.
02/25/2021
Jami P.

United States
Looking younger every day
Another amazing new product from MintPear. My skin has never looked better, or younger. This serum goes on so easily, and gives your face such a dewy glow. I'm obsessed. Thank you, Rita, for another stellar product.
01/06/2021
Brenda B.

United States
I love it!
I love all your rosehip products. They feel silky on my skin and leave it looking fresh and dewy.
09/07/2020
Kristen B.

United States
Review on rosehip oil
It has been very good I am satisfied with my purchase and would definitely buy again in the future!
Hi Kristen! Thank you for your sweet review. We are so happy to welcome you to the MintPear family!