Pumpkin Enzyme Exfoliating Masque
Regular price
Sale price
$ 29.00
Unit price
per
Sale
Sold out
4oz

Pumpkin Enzyme Masque is for you if, you are dealing with: Large Pores, Rough Skin, Acne, Oily Skin, Dry Skin, Aging Skin, Uneven Skin Tone, Dark Spots, Sun Damage, Tired or Dull Skin. Ready for Younger-looking, Radiant and Revitalized Skin?!

The MintPear Pumpkin Enzyme Exfoliating Masque is loaded with fruit enzymes and alpha hydroxyl acids (AHAs) and 5% Glycolic Acid, promoting and increasing cell turnover, resulting in brighter and smoother skin! The Pumpkin Enzyme gently exfoliates your skin, helps even the appearance of skin tone, smooth the look of fine lines and wrinkles, and clarify to reveal skin that looks smoother, younger, radiant, and revitalized.

Pumpkin is loaded with over 100 Beneficial Nutrients and is a helpful super food for the skin;
Leaves skin feeling replenished, brightened and softly renewed;
Creamy, antioxidant and enzyme-rich;
Smells delicious as it brings deep exfoliation and sloughing effects to dry, dull skin suffering from the "winter blues";
It is active, so a patch test is recommended;
Balanced for the skin's pH between 3.5 to 4.2.

Ingredient Superstars:

5% glycolic acid
Pumpkin fruit
Vitamin E & C
Cinnamon, ginger, & nutmeg powder

More about Pumpkin according to Livestrong:

"Pumpkin contains antioxidant Vitamin A and Vitamin C to help soften and soothe the skin and boost collagen production to prevent the signs of aging. Zinc in pumpkin seeds is brilliant for acne sufferers. Zinc will help control the hormone level and oil production, as well as assist with the healing of the skin. Pumpkin contains the acne-fighting vitamins E and T, more commonly known as toluidine. Pumpkin skin masques promote healthier skin by fighting inflammation, reducing pore size, controlling excess oil and preventing the appearance of pimples, blackheads, and blemishes."

Smooth Skin
Shrink Pore Size
Anti-inflammatory
Reduce the appearance of Post Acne Scars
Moisturizing Polyunsaturated Fats
Zinc for Clear Skin
Heal Skin with Vitamin C
Alpha Hydroxy Acids (AHAs) For Bright Skin
Improve Skin Tone With Vitamin E
A natural exfoliant, "pumpkin contains natural enzymes that help to dissolve dry skin cells"

***You will receive a replacement pump included with your product, for easier distribution of the product.***

Apply a thin layer to cleansed skin, avoiding eye area or open wounds. Rinse off after five minutes, or if irritation occurs, rinse immediately. Light tingling will occur. If the skin becomes irritated, wash off immediately with warm water and apply vegetable oil to face. Olive or Jojoba Oil works great. Tone, nourish and protect. Always test the product on a small area before use on the entire face. This product can irritate sensitive skin or skin that has open pores. Only you will know when to wash off the masque, which should happen at the first sign of any irritation. Apply jojoba oil after masquing for a cooling effect.

What's normal: slight tingling and redness may occur from active ingredients, we recommend to use SPF with this product. Naturally Occurring Odors, you can be 100% confident that MintPear doesn't add any fragrance or essential oils (known to cause hormonal imbalance) to masque ingredients.

Pumpkin Fruit Purée, Water, Glycerin, Tetrasodium EDTA, Vitamin E, Sunflower Seed Oil, Phenoxyethanol, Citric Acid, Meadowfoam Seed Oil, Xanthan Gum, Glycolic Acid, Vitamin C, Organic Sugar Cane Extract, Organic Bilberry Fruit Extract, Organic Sugar Maple Extract, Organic Orange Peel Extract, Organic Lemon Peel Extract, Organic Cranberry Fruit Extract, Organic Neem Seed Oil, Organic Rosemary Leaf Extract, Organic Sunflower Seed Oil, Cinnamon Bark Powder, Ginger Root Powder, Allspice Powder, Nutmeg Powder, Organic Alcohol.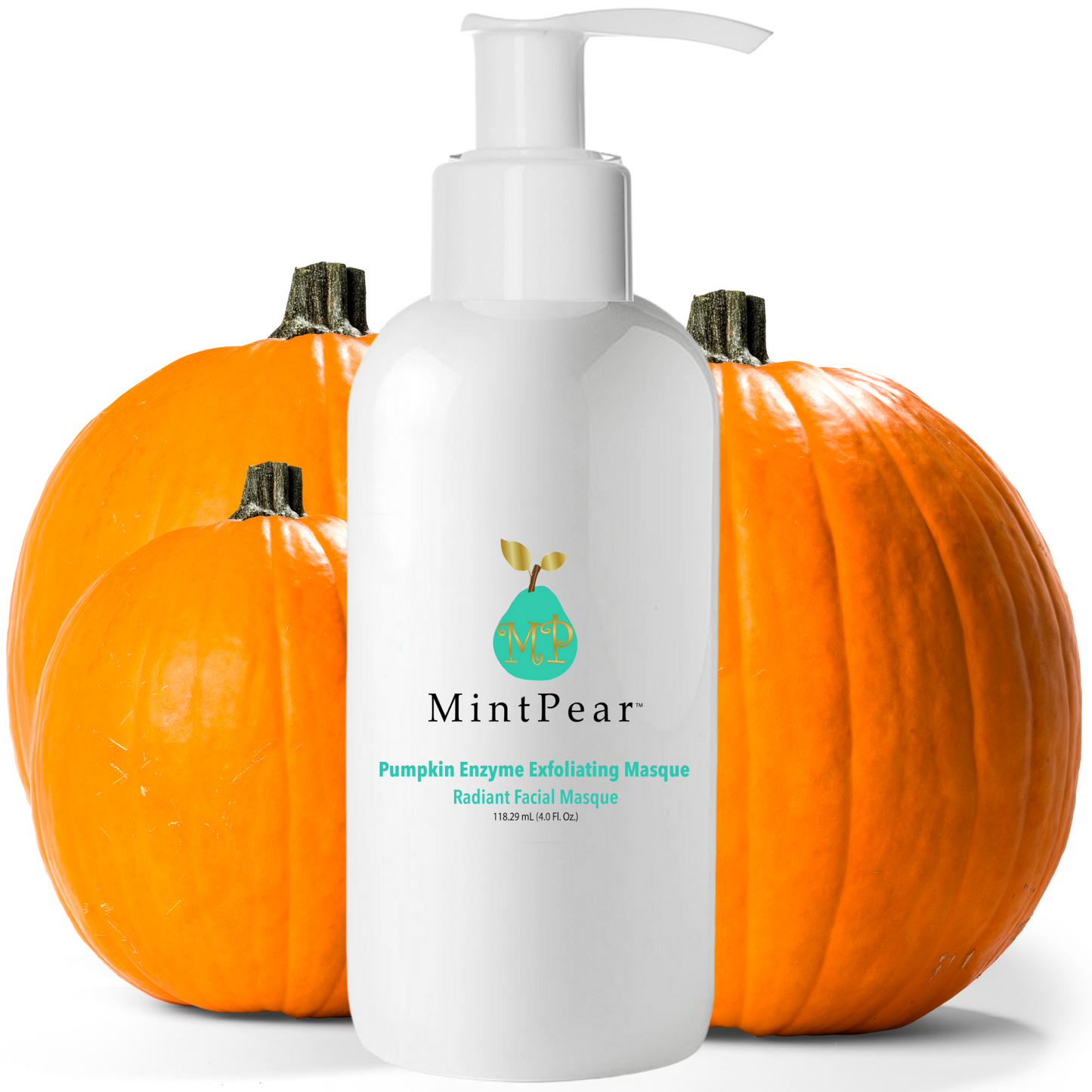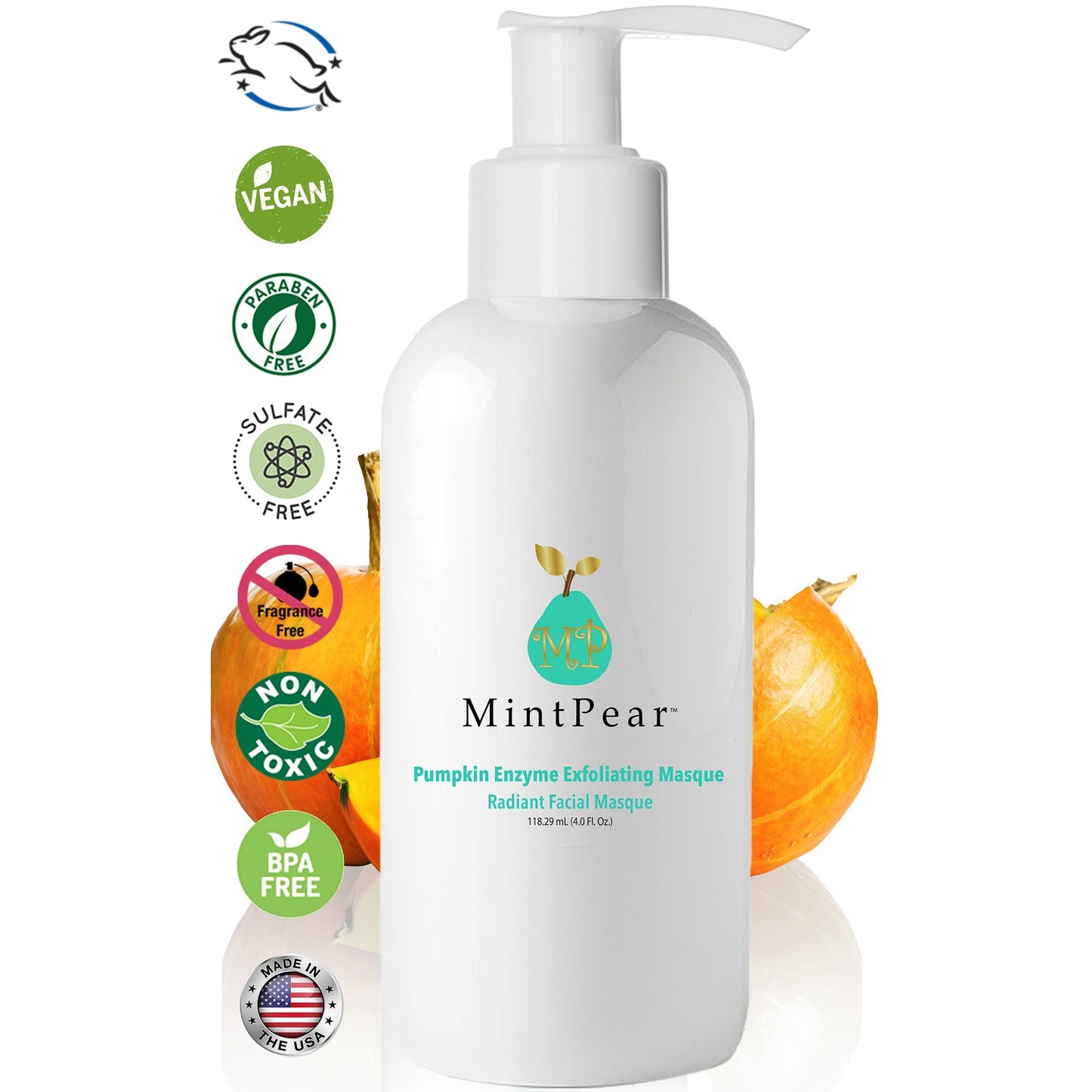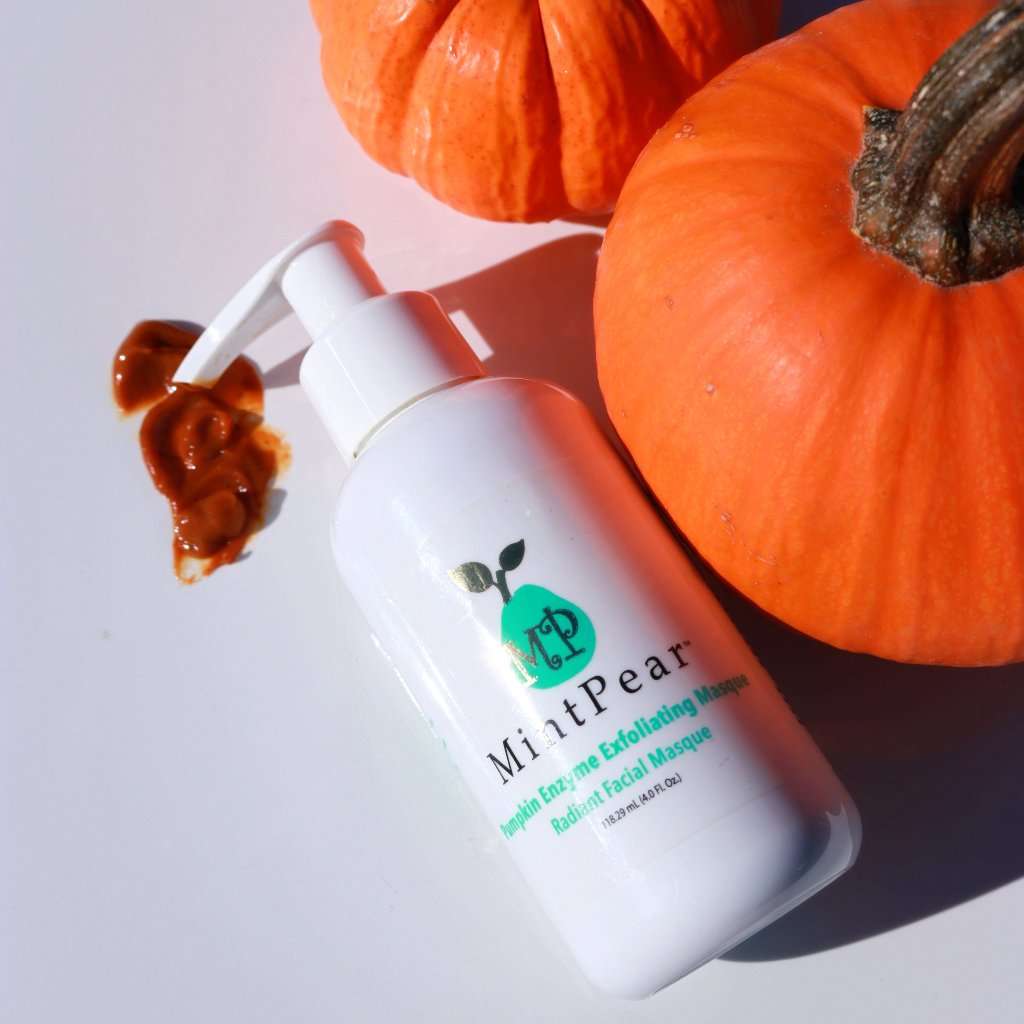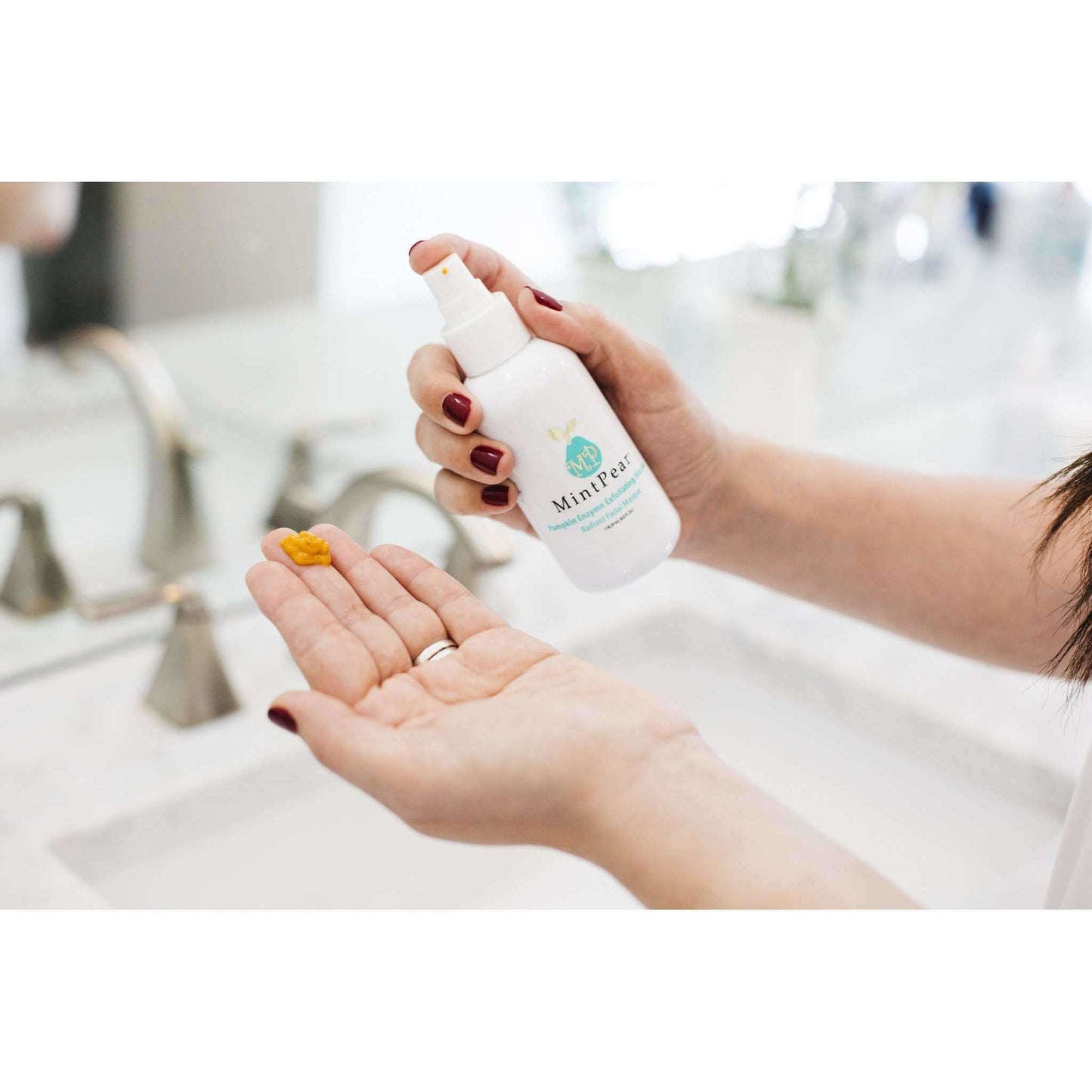 Customer Reviews
The smell is unbearable
The smell is so horrific and it has to sit on your face for 5 min. I couldn't get past 1 min. Unfortunately, I won't be able to use this product anymore.
10/24/2020
Jessica M.

Canada
WORTH EVERY PENNY
Just received my products. It's been 2 days and I am IN LOVE with them already Already noticing a difference :) Thank you!!
01/27/2020
Donna C.

United States
Pumpkin face
My daughter told me how much she loved this !!!! OMG Now I see what she meant. Makes my face feel amazing and really cleans the pores and clarifies my skin !!!! Didn't think I needed this product, but oh my goodness I DID !!!!!
Donna, Yay! I am so glad you are loving the Pumpkin masque. We of course feel the same way. Thank you for taking the time to share with us and our community. - XO - Rita
12/30/2019
Natalie P.

United States
BEST THING EVER!
I have completely fallen in love with this product! The smell is amazing and I am absolutely obsessed with the tingling feeling it gives you on your face...love it! I will definitely be buying more of this. I can't be without it!
Natalie, Love this so much, And love that you are loving it. Thank you for your amazing support, it means the world to us.
Love the tingle
Awesome! Makes my skin so soft afterwards